Mars: Is Biohazard Level 4 Enough?
by Barry E. DiGregorio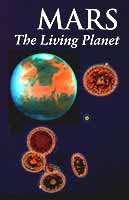 Middleport - December 8, 1999 - In part two of Bruce Moomaw's perspective on the possible danger of a Mars Sample Return, he cites almost as fact, that microbe infested meteorites from Mars have been showering the Earth for millions of years, and that because of this, all Earth life has already been "inoculated" against it.

This is only a hypothesis, and there is no evidence to support it. There has never been a single instance of a scientist finding evidence of either extant or dormant spores of extraterrestrial microbes in any of the SNC meteorite's or in meteorites from other parts of our solar system.

So why was this argument even used to counter the position that perhaps pathogenic bacteria or viruses might exist on Mars today? While we have no evidence that any Martian microbes would be pathogenic, we do have some evidence to support the notion that Mars may have extant or dormant microbes in its soil.

This evidence is well documented in the scientific literature, and it comes from the 1976 Viking lander 1 and 2 biology experiments known as the Labeled Release experiment (built by Dr. Gilbert Levin) and the Pyrolytic Release experiment (built by Dr. Norman Horowitz).

In Levin's LR biology experiment, a drop of radioactive nutrient was placed on a Martian soil sample which then gave off radioactive CO2 as microorganisms consumed it and respired.

A geiger counter measured the radioactive CO2 coming out of the soil as the nutrient was consumed. This response is exactlly what Earth microbes do. A cross check to determine whether life or chemistry was causing the reaction was built into the experiment.

This cross check contained a heating element that could be adjusted to different temperatures to differentiate between chemistry and life. During the pre-flight testing of the LR and other Viking biology instruments, the entire Viking biology team agreed that a temperature of 160 degrees Celsius applied for three hours should kill any microbes in a sample of soil.

All microbial life in soils on Earth are destroyed by this temperature. This is also the sterilization temperature physicians use to sterilize their operating tools.

When a second fresh sample of Martian soil was obtained by the Viking LR team, the scientists raised the temperature in their LR experiment chamber to 160 degrees Celsius for three hours, then applied the nutrient solution.

They then measured any radioactive CO2 gases coming out of the soil sample. It was soon realized that the heat application at 160 C for three hours eliminated any response coming out of the soil. Subsequent LR experiments (nine in all) tested different heat applications to narrow the survival range of any Martian organisms in the soil samples.

Amazingly, a large difference was observed in soils that were heated to 45 degrees Celsius (80% reduction of evolved radioactive gases) and 50 degrees Celsius (with a 90% reduction in radioactive gas). No known terrestrial chemicals have ever mimicked the heat liability experiments conducted with the Viking LR.

Furthermore, additional samples of Martian soil were obtained and stored inside the LR for several months in the dark. Then the liquid nutrient solution was applied to these samples. The result? A 95 to 100% reduction in response.

So the question to ask is: was this lack of a response do to microbes sequestered in the dark from their environment which had died? Or was some kind of unknown chemical in the Martian soil? Instead of attributing the LR results to living microbes on Mars, some NASA scientists proposed that peroxides had caused the reaction in the LR, in essence mimicking a microbial response.

Years of testing by the Viking LR biology team, demonstrated that no known Earth chemistry including hydrogen peroxide has ever reproduced the kinetic or other results obtained from Mars. However, tests on Earth soils with microorganisms compared very favorably to those on Mars.

Dr. Chuck Klein, leader of the Viking biology team, said in his report on the Viking findings (Icarus, 34, 666, 1978): "In many respects the Labeled Release data are entirely consistent with the biological interpretation. If information from other Viking experiments had not been available, this set of data would almost certainly have been interpreted as presumptive evidence for biology".

The "other Viking experiment" Dr. Klein was referring to was the Viking Gas Chromatographic Mass Spectrometer or GCMS, which was designed to look for organic molecules "the stuff of life".

The GCMS had many problems in route to Mars and in acquiring samples on the surface of the planet. It conducted a total of four test runs on Martian soil and had concluded that organic molecules at the parts per billion level were absent in Martian soil even though lunar soil from the Apollo missions had trace amounts of organic material in it from carbonaceous meteorites.

From this data set alone, it was implied that the Viking LR data was wrong. Without organic material, some scientists thought, there could be no life on Mars.

However, it was well known that the Viking GCMS had a fatal flaw. In a 1978 MIT doctoral thesis written by Dr. John M. Lavoie, it was revealed that the Viking GCMS instrument had an experimental Palladium separator built into it designed to pass preheated gases into the Gas Chromatograph to be analyzed.It is here, in the gas chromatograph, where organic molecules would be found, if any.

In his MIT thesis however, Lavoie points out that in preflight Viking GCMS tests with high-content sulfur Earth soils, the Palladium separator was completely inactivated and no indication for organic molecules could be obtained. Martian soils as analyzed by the Viking XLFS instrument (inorganic analysis) were found to contain up to 50 to 100% more sulfur than Earth soils do.

The question should have been at this time: Did excess sulfur in Martian soil inactivate the Viking GCMS Palladium separator? Because the Viking GCMS took forty or more accurate readings of the Martian atmosphere, it was assumed by those scientists not familiar with the GCMS instrument, that the entire instrument worked perfectly on Mars.

However, the GCMS operated as two separate instruments, a gas chromatograph (connected to the Palladium separator) and the mass spectrometer (independent of the Palladium separator). Basically the mass spectrometer portion of the Viking GCMS worked fine, but the gas chromatograph portion probably was rendered useless by excess sulfur in the Martian soil. Is there proof of this? Yes there is.

Fortunately, the Viking Pyrolytic release (PR) biology experiment built by Dr. Norman Horowitz provides enough ample evidence to warrant a full scale NASA reevaluation of the Viking biology experiments.

In seven out of nine Viking PR experiments, minute amounts of organic molecules were found to have actively formed inside the PR chamber. To make matters more astounding, one of the PR experiments was run completely in the dark, and showed a similar response -- organic material accumulating inside the instrument.

The Viking PR did not use water or nutrients, just simulated sunlight. The PR provided evidence for organic molecules on Mars, yet scientists ignored this data in favor of the Viking GCMS results. Why?

My point here is that evidence for microbial activity on Mars was found, whereas there is no evidence at all that Earth has been "showered by extant microbe containing meteorites" from Mars. The LR and PR data is not "definite proof", but as mentioned, NASA has not sent any other life sciences experiments to Mars to elaborate on this important issue.

Before Martian samples are returned to Earth, it is in the interest of humanity to fully examine the samples in situ first on the surface of Mars with a host of life sciences instruments - something not done since Viking, 23 years ago.

Risking a possible accident in which the Mars Sample Return capsule is either leaking or lost in an unknown location on Earth, is scientifically conceivable. The recent losses of Mars Climate Orbiter and the Mars Polar Lander demonstrate that human and technological errors do crop up.

Since it is admitted by both the National Research Council and Center for Disease Control that Martian soil could conceivably have pathogenic viruses or bacteria contained in it, that it must be treated as a biohazard until "proven otherwise".

Also, it has been recommended by these agencies that samples be examined in a biohazard level 4 containment facility upon return to Earth. This indicates that these organizations take the issue seriously.

This then raises the question of whether a Mars Sample Return mission (as currently envisioned) should occur at all. "If" there is even the smallest chance that Martian soil could contain ecosphere damaging microbes, is it even legal under international laws, to import a biohazardous substance from another world?

What contingency plans are in place if the sample capsule comes down in China or another country for example? Could the accidental release of Martian biohazardous material on another trigger a major international incident?

Since it is scientifically conceivable that an "outbreak of Martian viruses" is a remote possibility, and therefore would not recognize international boundaries, does it not seem logical to include other nations in the decision making process to avoid such tensions should the unthinkable occur

We simply do not know enough about Mars or the life that might yet survive there to justify bringing a sample home to our planet. Good science doesn't rush to obtain results while risking a potential catastrophe of unknown proportions.

Instead, good science procedures with caution, progressively learning more and more as we go along. To jump to a Mars Sample Return mission without a full scale in situ attempt to find and characterize any life on Mars, is not only premature but unscientific.

It is the equivalent of NASA sending men to the moon in the sixties without ever having gone through the Mercury or Gemini testing phases to learn from. NASA knew then the principal of step by step learning.

The question is has NASA lost "the right stuff" so vital for progress in planetary exploration that it is now willing to risk anything, even our biosphere, in an attempt to do things quickly?

ICAMSR Directors

Barry E. DiGregorio - Founder and Executive Director: icamsr@buffnet.net Barry has been a professional science and aerospace writer since 1988 and is also the author of the book "Mars: The Living Planet" (http://www.biospherics.com/mars/marsbook.htm), a 1997 re-examination of the Viking biology results.
Darlene Cypser - Director and Legal Consultant: dcypser@chisp.net Darlene is a Colorado based Attorney who in 1993 published a paper "International Law & Policy of Extraterrestrial Planetary Protection" in "Jurimetrics - Journal of Law, Science & Technology" (vol.33 No. 2 pp 315-339 1993). You can preview a synopsis of this interesting paper at: (http://members.tripod.com/~dcypser/pp/etpp.html).
Dr. Troy D. Wood - Assistant Director and Science Consultant: twood@acsu.buffalo.edu Dr. Wood is Assistant Professor of Chemistry at the University of Buffalo, New York. He is an expert in the fields of Analytical Chemistry; Mass Spectroscopy and Macromolecular Structure. Visit his Homepage at: (http://www.acsu.buffalo.edu/~twood/tdw.html).
Dr. Tom Morris - Officer and Science Advisor: tommorris@planetarybiology.com Dr. Morris is a Professor of Biology at Fullerton College in Fullerton, California. Dr. Morris also maintains the Planetary Biology Website at: (http://www.planetarybiology.com/).
Dr. Gilbert V. Levin - Science Advisor and Consultant: gillevin@biospheircs.com Dr. Levin was the second scientist funded by NASA to build a life detection instrument for planetary missions to Mars. Dr. Levin has been a co-investigator for NASA's Mariner 9 misson to Mars in 1971; a Principal Investigator for the Viking Biology Team in 1976; a JPL Mox Team co-experimenter on the Russian Mars 96 mission to Mars. In 1997 Dr. Levin concluded that his biology data from the surface of Mars in 1976 indicated the presence of living microorganisms. Dr. Levin's scientific research papers ca be accessed at: (http://www.biospherics.com/mars/).
Bruce K. Gagnon - Officer and Advisor: globalnet@mindspring.com Bruce is the Secretary/Coordinator for the Global Network Against Weapons & Nuclear Power in Space. Visit thier Home Page at: (http://www.globenet.free-online.co.uk/).

Book List
Thanks for being here;
We need your help. The SpaceDaily news network continues to grow but revenues have never been harder to maintain.

With the rise of Ad Blockers, and Facebook - our traditional revenue sources via quality network advertising continues to decline. And unlike so many other news sites, we don't have a paywall - with those annoying usernames and passwords.

Our news coverage takes time and effort to publish 365 days a year.

If you find our news sites informative and useful then please consider becoming a regular supporter or for now make a one off contribution.


SpaceDaily Contributor
$5 Billed Once

credit card or paypal

SpaceDaily Monthly Supporter
$5 Billed Monthly

paypal only