A Case Of Stratospheric Influenza
By Fred Hoyle and Chandra Wickramasinghe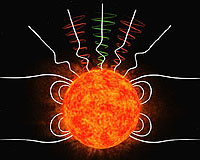 Cardiff - January 21, 2000 - An idea such as this may have been seen as wildly outrageous in 1978, but now it should be less so with the modern trend to accept that life could be distributed on a vast cosmic scale.

The best defence against influenza is to stay put where you are if you can! Provided you have the luck to avoid a virulent patch you should be safe. But if you move uneasily from place to place sooner or later you will move into an infective patch, and within a couple of days you are likely to succumb. Doctors administering to patients in a bad patch will be run off their feet, while those in a place that is not hit might wonder what all the fuss is about.

We believe the advice to stay put in a safe place is better that a so-called influenza jab. All this can do at best is to give you protection against last year's variety of influenza. It won't give you protection against a new variety, and all the "bad" forms of influenza are new.

Our expectation is that sooner or later a really bad situation, possibly similar to that in 1918/19, will arise. This seems inevitable so long as the Government's advisors continue to prefer medical dogma to taking a closer look at the facts. Which suggest to the point of certainty that what we get from the high atmosphere, be it a virus or a genetic trigger, is significantly more dangerous than anything we may catch from other people.

To take things a step further, the curve of Figure 1 is a plot of sunspot numbers throughout the past century. Sunspot numbers give a measure of high-energy activity at the sun's surface, the peak numbers corresponding with frequent solar flares and the emissions of charged particles that reach the Earth.

Such activity on the sun is known to result in geomagnetic storms, ionospheric disturbances that interfere with radio communications, and most spectacularly the production of bright auroral displays, the latter being caused by the streaming of charged particles from the sun moving along magnetic field lines that connect the sun and the Earth.

Peaks of solar activity will undoubtedly assist in the descent of charged molecular aggregates (including viruses) from the stratosphere to ground level. Thus according to our present point of view serious influenza epidemics would follow such peaks, provided the culprit molecular aggregates were recently dispersed in the stratosphere from cometary meteor streams. With a more or less regular occurrence of such meteor showers the limiting condition may then be seen as the intensity of solar activity, leading naturally to coincidences between the timings of pandemics or major epidemics and sunspot peaks.

From the end of last September solar activity reached several high peaks, the details of which are shown in Fig. 2. The expectation is that Sunspot Cycle No. 23 will peak sometime in the middle of the present year. In view of the correspondences in Fig. 1 it would be unwise to remain sanguine that we have missed a major pandemic, even if by luck we escape its worst effects in the present season.
Figure 1: Mean sunspot numbers compared with timings of major world-wide pandemics (P) of influenza. Note in particular 1918: "Spanish Flu" (H1N1) caused 500,000 deaths in the USA; 1957-58 "Asian Flu" (H2N2) caused 70,000 deaths in the USA; "Hong Kong flu" (H3N2) caused 34,000 deaths in the USA; 1977 "Red flu" (H1N1) caused 30,000 deaths in the USA.
Figure 2: Sunspot cycle No. 23, including theoretical prediction showing peak in the middle of 2000.

COSMIC ANCESTRY

EXO WORLDS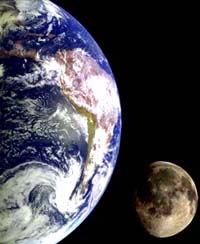 The Terra Of Sol Alone
Seattle - January 18, 2000 - The annals of science fiction are filled with advanced extraterrestrial creatures like Klingons and Wookies, Vogons and Romulans, all carrying on in a human sort of way. And while screenwriters and novelists weave stories around these characters, some people scour the heavens for signs that such highly evolved beings really are out there.
Thanks for being here;
We need your help. The SpaceDaily news network continues to grow but revenues have never been harder to maintain.

With the rise of Ad Blockers, and Facebook - our traditional revenue sources via quality network advertising continues to decline. And unlike so many other news sites, we don't have a paywall - with those annoying usernames and passwords.

Our news coverage takes time and effort to publish 365 days a year.

If you find our news sites informative and useful then please consider becoming a regular supporter or for now make a one off contribution.


SpaceDaily Contributor
$5 Billed Once

credit card or paypal

SpaceDaily Monthly Supporter
$5 Billed Monthly

paypal only