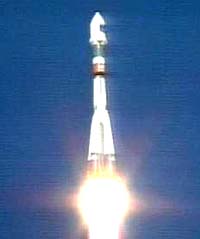 A Soyuz-Fregat soars into Space

Expendables Will Burn $97 Billion In Business Next Twenty Years
Newtown - July 18, 2000 - The worldwide expendable launch vehicle (ELV) market will generate some $97 billion over the next two decades, predicts a new report prepared by Forecast International/DMS.

The report, "The World Market for Expendable Launch Vehicles - 2000-2019," further anticipates rocket production to average about 80 units of all types during that period.

Most industry observers believe that the ELV market will be awash in rockets in the coming years, with not enough satellites to launch ­ and at first glance they might be right.

For example, the demise earlier this year of the Iridium Big LEO mobile satellite communications system has placed all such low-Earth-orbiting systems under closer scrutiny, especially those still seeking financing.

Any cutbacks in the number of LEO satellites will force a drop in the requirement for small-to-medium launch vehicles. Meanwhile, the fact that GEO satcoms are lasting longer has decreased the need for replacements.

However, upon closer inspection, both the LEO and GEO markets remain sound to some degree, and since ELVs are inexorably tied to the satellite market, actual demand for boosters may be healthier than some industry observers are willing to admit, according to the report.

"It all boils down to one's perspective of the satellite market," said Forecast International's senior space systems analyst Ray Peterson.

"No one would deny that today's mobile satellite communications market is in a state of flux, but new satcoms earmarked for GEO orbits, along with replacement units later this decade, military satellites, science spacecraft and the ever-enlarging commercial remote sensing market, will fuel a healthy demand for ELV launches, at least over the next ten years," added Peterson.

As for the LEO market, the multi-billion-dollar Iridium system is history and ICO Global has weathered its share of financial troubles. The Globalstar Big Leo system is up and running, but the jury is still out on how well Globalstar will do.

At this stage, no one is forecasting an Iridium-type demise, and Starsem, which provided three Soyuz launchers for the Globalstar effort, will most likely be tapped for additional launches in the coming years, according to the report.

ICO, which unfortunately lost its first satellite in a Sea Launch accident earlier this year, still needs to get 11 more satellites in orbit. Meanwhile, SkyBridge and Teledesic are forging ahead with their ambitious LEO plans, which will require dozens of launches involving an international fleet of boosters.

Admittedly, some of the more outrageous designs may see a cut in the number of satellites involved, provided they ever get off the drawing boards.

Craig McCaw's multibillion-dollar, 288-satellite Teledesic constellation may ultimately drop to perhaps fewer than 100 units. Despite such reductions, the requirement for LEO launch services in the coming years should remain healthy.

Forecast International recently completed its annual assessment of the commercial communications satellite market, and predicts that nearly 2,600 satellites destined for GEO or LEO will be built between now and 2019. Granted, many of these satellites will be launched two or more at a time, but overall the ELV market will see modest launch demand, especially when spread over the next two decades.

Forecast International

SPACE-SHIP.COM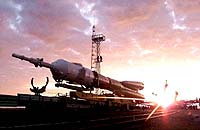 US To Let Russian Launch Agreement Expire
Moscow (Interfax) July 14, 2000 - Russia and the United States do not plan to renew the bilateral trade agreement that sets quotas on commercial launches, which expires on December 31.
Thanks for being here;
We need your help. The SpaceDaily news network continues to grow but revenues have never been harder to maintain.

With the rise of Ad Blockers, and Facebook - our traditional revenue sources via quality network advertising continues to decline. And unlike so many other news sites, we don't have a paywall - with those annoying usernames and passwords.

Our news coverage takes time and effort to publish 365 days a year.

If you find our news sites informative and useful then please consider becoming a regular supporter or for now make a one off contribution.


SpaceDaily Contributor
$5 Billed Once

credit card or paypal

SpaceDaily Monthly Supporter
$5 Billed Monthly

paypal only