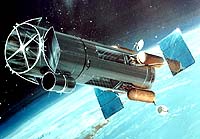 Space based and ground based lasers will soon offer a powerful weapon against satellites

Air Force Lab Evaluating Satellites Vulnerability To Lasers
Kirtland AFB - July 12, 2000 - One by one, the world's orbiting satellites are being evaluated for their vulnerability to lasers. Driven by a new Defense Department directive, the work is being done by the Satellite Assessment Center of the Air Force Research Laboratory's Directed Energy Directorate here.

According to Capt. Brian Oelrich, chief of the center's Optical Analysis Group, "The work we're doing in response to this new defense directive reflects two factors: There is an increasing number of satellites in space, and some of these satellites are particularly vulnerable to laser radiation."

"When you couple this vulnerability to the increased use of DOD high-energy lasers," notes Oelrich, "actions were needed to prevent inadvertent laser damage to these satellites."

High-energy lasers currently in development include the U.S. Air Force's Airborne Laser and Space Based Laser, and the U.S. Army's Tactical High Energy Laser. Other lasers are used for detection, ranging, tracking, communications, calibration and imaging.

Any Department of Defense agency wanting to fire a laser above the horizon must first get permission from U.S. Space Command's Laser Clearing House, which uses the center's information on satellite vulnerabilities to help determine if there are any satellites in the laser's path that should be avoided.

Specifically, the Satellite Assessment Center uses detailed satellite intelligence coupled with laboratory laser effects testing on actual spacecraft components and materials to build high-fidelity computer models of foreign and domestic satellites. From these models, the safe levels of laser illumination for a particular satellite can be determined. Also factored in is the operation and orientation of a particular satellite in relation to the proposed laser scenario.

An analysis for each satellite and scenario can be costly. To help minimize this cost in the future, the center is also developing software upgrades that will give U. S. Space Command the ability to screen satellites in-house. This software includes a center-developed satellite vulnerability database that can perform timely predictive avoidance analysis as situations arise.

The Satellite Assessment Center was selected for this because of its three decades of experience studying satellite vulnerabilities and in-depth knowledge of satellite materials, properties and intelligence.

MILSPACE


Infinite Winds Air Force Laser Contract
Warwick - June 15, 2000 - Infinite Group said Wednesday that its subsidiary, Mound Laser and Photonics Center, Inc. in Miamisburg, Ohio (MLPC), a member of Infinite's Laser and Photonics Group has been awarded a $100,000 Phase 1 Small Business Innovative Research (SBIR) contract from the Air Force Research Laboratory (AFRL). The SBIR is for work on the laser deposition of High Temperature Superconductors (HTS).
Thanks for being here;
We need your help. The SpaceDaily news network continues to grow but revenues have never been harder to maintain.

With the rise of Ad Blockers, and Facebook - our traditional revenue sources via quality network advertising continues to decline. And unlike so many other news sites, we don't have a paywall - with those annoying usernames and passwords.

Our news coverage takes time and effort to publish 365 days a year.

If you find our news sites informative and useful then please consider becoming a regular supporter or for now make a one off contribution.


SpaceDaily Contributor
$5 Billed Once

credit card or paypal

SpaceDaily Monthly Supporter
$5 Billed Monthly

paypal only