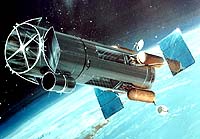 Turning swords into lasers

Megawatt Laser Test Brings Space Based Lasers One Step Closer
Redondo Beach - April 26, 2000 - In a demonstration of the rising maturity of high-energy lasers, TRW has conducted a test of the Alpha high-energy laser that produced a 25 percent increase in the laser's output power and improved its quality.

The successful, six-second test of the megawatt-class Alpha was performed March 28 at TRW's Capistrano Test Site in Southern California as part of the Alpha Laser Optimization (ALO) program. ALO is funded jointly by the Air Force and Ballistic Missile Defense Organization (BMDO).

The test marked not only the 22nd successful firing of the TRW-built Alpha, but also a significant step forward in the nation's disciplined maturation of the technology required to design and deploy the Space-Based Laser Integrated Flight Experiment (SBL IFX), an experimental, space-based missile defense system being developed by the Air Force.

"The data gathered during this test of laser performance and beam uniformity is a critical part of the process we're using to develop and validate next-generation laser design tools," explained Dan Wildt, TRW's SBL IFX program manager.

"The more we understand about Alpha's performance under a variety of operating conditions, the better we'll be able to design and produce a laser optimized for the size, weight and performance requirements of the SBL IFX."

Like Alpha, the SBL IFX laser will be a cylindrical, hydrogen-fluoride chemical laser, but will take advantage of engineering advances in laser hardware since Alpha was designed in the mid-1980s, he added. TRW is part of Team SBL IFX, a joint venture comprising TRW, Lockheed Martin and Boeing that's designing and developing the SBL IFX for the Air Force and BMDO.

According to Dan Novoseller, TRW's ALO program manager, the purpose of the recent test was to increase the amount of power extracted from Alpha's laser cavity by the optical systems that focus the energy into a laser beam.

"Historically, as part of a conservative optical design strategy, we've used hardware called 'clippers' to restrict the size of Alpha's cylindrical, donut-shaped lasing cavity," he explained.

"Any photons that struck on or outside the clippers were diverted to energy 'dumps,' which reduced the number of photons available to form the laser output beam. Needless to say, we were not getting a full measure of Alpha's potential beam uniformity or output power."

In the recent test, he added, the clippers were retracted to a position that did not prevent any photons produced by Alpha from striking the optical systems that generate its output beam. The results were significantly improved from all previous Alpha tests.

"In addition to producing about 25 percent more power than previous tests, Alpha generated an output beam that was almost perfectly round and more uniform in energy density," said Novoseller.

"These results raise our confidence in using a cylindrical laser approach for SBL IFX and may help identify some ways we can reduce the size and weight of SBL IFX subsystems required to operate the laser."

As an example, Novoseller said improvements in laser beam quality and output power produced per unit of chemical fuel would allow Team SBL IFX to reduce the size and weight of the SBL IFX laser's chemical fuel tanks without sacrificing any mission capability.

The SBL IFX team plans to conduct additional testing of Alpha later this year to gather additional understanding of how changes in the chemical flow rate will affect its overall performance.

TRW has been engaged in laser research and development since 1961. The company produces solid-state lasers for defense and industrial applications and designs and develops a variety of high-energy chemical lasers for space, ground and airborne applications.

Space Lasers at FAS

MILSPACE

LockMart Begins Building Airborne Laser Turret
Sunnyvale - April 11, 2000 - Lockheed Martin Space Systems, a member of Team Airborne Laser (ABL), has begun fabrication of the revolutionary, high-energy laser weapon system's turret assembly at its Sunnyvale, Calif., facility.
Thanks for being here;
We need your help. The SpaceDaily news network continues to grow but revenues have never been harder to maintain.

With the rise of Ad Blockers, and Facebook - our traditional revenue sources via quality network advertising continues to decline. And unlike so many other news sites, we don't have a paywall - with those annoying usernames and passwords.

Our news coverage takes time and effort to publish 365 days a year.

If you find our news sites informative and useful then please consider becoming a regular supporter or for now make a one off contribution.


SpaceDaily Contributor
$5 Billed Once

credit card or paypal

SpaceDaily Monthly Supporter
$5 Billed Monthly

paypal only