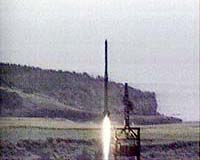 A rare test of a North Korean missile some years past....

North Korea's Missile Program Remains Shrouded In Secrecy
Seoul (AFP) July 28, 2000 - Pyongyang's offer to abandon its missile program in exchange for space-rocket technology remains unclear as US Secretary of State Madeleine Albright said Friday her talks with North Korean counterpart Paek Nam-Sun in Bangkok had not produced any details.

North Korea's missile program has been cloaked in secrecy ever since Pyongyang stepped up its weapons drive following withdrawal from the Nuclear Non-Proliferation Treaty in 1993.

Western analysts remain uncertain about the true extent of the reclusive Stalinist state's weapons capability.

The most recent clue to how far Pyongyang's weapons program had advanced came on August 31, 1998, when the North shocked Asia and the United States by test-firing a rocket over Japan.

Since then speculation about North Korea's missile arsenal has raged, with the United States fearing Pyongyang could develop a missile capable of hitting its shores by 2005.

South Korea intelligence believe the rocket fired over Japan in 1998 was a three-stage Taepodong I missile with a maximum range of 4,500 kilometres (2,800 miles).

Other South Korean estimates say North Korea has stockpiled 1,000 tonnes of chemical warheads and in 1998 was capable of producing up to 100 Scud missiles a year.

Washington has used claims Pyongyang was close to developing an Intercontinental Ballistic Missile (IBM) to support arguments the United States needs a National Missile Defence shield to intercept and destroy missiles fired against it by "rogue states."

Some US nuclear physicists, however, doubt Pyongyang is close to developing an IBM capable of hitting the United States with an atomic payload. Satellite photographs published earlier this year of a missile launch site in North Korea revealed very primitive facilities, nuclear experts said.

North Korea has always maintained the 1998 launch was a peaceful attempt to put a satellite into orbit.

Attempts by US negotiators to obtain a commitment from North Korea to halt exports of weapons technology in Kuala Lumpur earlier this month ended in stalemate. North Korea demanded one billion dollars in compensation for agreeing to the request. The US team rejected the demand out of hand.

Pyongyang has been accused of helping Islamabad to develop its nuclear-capable Ghauri missile, although Pakistan insists its missile programme is totally "indigenous."

North Korea promised to freeze its nuclear program under a 1994 deal.

In return, a US-led consortium -- the Korea Energy Development Organization (KEDO) -- agreed to build two safer nuclear power plants costing 4.6 billion dollars and to supply interim fuel oil.

Pyongyang's proposal to abandon its missile programme in exchange for access to space-rocket technology was conveyed to the international community earlier this month by Russian President Vladimir Putin during a visit to North Korea.

Details have remained unclear despite discussions between the Russian leader and US President Bill Clinton and follow up talks on the sidelines of the annual ASEAN Regional Forum in Bangkok.

Copyright 2000 AFP. All rights reserved. The material on this page is provided by AFP and may not be published, broadcast, rewritten or redistributed. SPACEWAR.COM


US May Help North Korea Space Program
by Jim Mannion
Washington (AFP) July 20, 2000 - The United States is prepared to explore ways to help North Korea's space program if Pyongyang abandons development of intercontinental ballistic missiles, the Pentagon said Thursday.
Thanks for being here;
We need your help. The SpaceDaily news network continues to grow but revenues have never been harder to maintain.

With the rise of Ad Blockers, and Facebook - our traditional revenue sources via quality network advertising continues to decline. And unlike so many other news sites, we don't have a paywall - with those annoying usernames and passwords.

Our news coverage takes time and effort to publish 365 days a year.

If you find our news sites informative and useful then please consider becoming a regular supporter or for now make a one off contribution.


SpaceDaily Contributor
$5 Billed Once

credit card or paypal

SpaceDaily Monthly Supporter
$5 Billed Monthly

paypal only