An example of a Russian missile launch - in this case a converted SS-18 dubbed Dnepr that The Ukraine is developing with Russia

Kazakhstan Wants Russia To Stop Ashuluk Launches
Almaty - (Interfax) May 1, 2000 - Astana intends to ask Moscow to refrain from rocket launches from the Russian air defense test site in Ashuluk, Kazakh Foreign Minister Yerlan Idrisov told a Monday news conference in Almaty.

A Strizh-3 target rocket launched from Ashuluk, Astrakhan region, exploded April 21 in Atyrau region, West Kazakhstan, two kilometers outside of the village of Primorye.

The explosion of the rocket, which had deviated from its route, made a crater 4-5 meters in diameter and 2.5 meters deep. Rocket fragments were scattered over a distance of 50-60 meters around the crater.

Idrisov said that he would meet with Russian ambassador to Kazakhstan Yuri Merzlyakov on Monday "to express our ideas about this to him."

He said he would hand an official note to the ambassador. "But this is not a protest note. There is no need to immediately make protests on every occasion," he said. "This is an unpleasant case. The worst thing about it is that people could have been hurt," Idrisov said.

Therefore, the Kazakh and Russian sides should think of ways to prevent such instances in the future, he said. Kazakhstan and Russia should develop a mechanism for preventing possible victims in such irregular situations, Idrisov said. "I think that the Russian side feels ill at ease in this case," he added.

A joint commission is investigating the details of the incident, Idrisov said. The Kazakh Foreign and Defense Ministries are in constant contact with their Russian counterparts, he added. Previously last Monday, Kazakhstan demanded that Russia provide a "detailed explanation" of why a missile launched from a Russian test site flew off course and exploded near a village in Kazakhstan.

The Strizh-3 missile launched from the Ashuluk air defense site in Russia's Astrakhan region near the Caspian Sea fell to earth 2 kilometers from the village of Primorye in western Kazakhstan.

The missile carried a self-destruct charge of 16 kilograms of TNT, but the accident caused no casualties or destruction.

At a meeting in Almaty, Kazakh Foreign Minister Yerlan Idrisov gave a note to Russian Ambassador Yuri Merzlyakov containing a "demand for a detailed explanation," the Kazakh Foreign Ministry has said.

The note stressed "the need for a moratorium on missile launches from military test sites in the Russian Federation situated near the border of Kazakhstan, pending complete clarification of the causes of this incident and measures to prevent such incidents in the future."

Kazakhstan and Russia, the Ministry press service told Interfax, need to go through every aspect of such launches together so as to preclude casualties in possible future accidents.

SPACE-SHIP.COM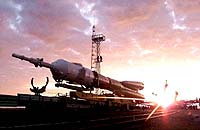 Russia Slices and Dices
Baikonur Rents
Baikonur (Interfax) April 25, 2000 - In the first quarter of 2000 Russia paid Kazakhstan one fourth of the rent for the Baikonur cosmodrome, Kazakh Minister for Energy, Industry and Trade Vladimir Shkolnik announced on Monday.
Thanks for being here;
We need your help. The SpaceDaily news network continues to grow but revenues have never been harder to maintain.

With the rise of Ad Blockers, and Facebook - our traditional revenue sources via quality network advertising continues to decline. And unlike so many other news sites, we don't have a paywall - with those annoying usernames and passwords.

Our news coverage takes time and effort to publish 365 days a year.

If you find our news sites informative and useful then please consider becoming a regular supporter or for now make a one off contribution.


SpaceDaily Contributor
$5 Billed Once

credit card or paypal

SpaceDaily Monthly Supporter
$5 Billed Monthly

paypal only