Hybrid Rocket Opens Low Cost Flight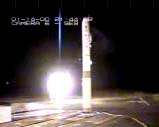 Vandenberg - January 26, 2000 - The Orbital Suborbital Program (OSP) is a contract that was let by SMC/TE in Albuquerque about two years ago. SMC owns all the excess Minuteman II motors that are in storage.

The reason for the contract was two fold. First, it was designed to use excess MM II motors to put government payloads into space cheaply. Secondly, the MSLS contract with Lockheed is up this year and they wanted to let a new contract to do the same work.

Since they will be using excess MM II motors on both these vehicles, they combined the Space Launch Vehicle (SLV) contract and the Target Launch Vehicle (TLV) contract into one contract called the OSP. Orbital Sciences has the overall OSP contract.

They have a space division and a ballistic division. The space division is in charge of the SLV and it will consist of a MM II first and second stage with a Pegasus third and fourth stage on top. It will put small, government (or university) payloads into space.

One Stop Satellite Solutions (OSSS), a company specializing in small satellites, has the JAWSAT payload integration contract.

Scheduled for launch in January of 2000, the JAWSAT Multi-Payload Adapter (MPA) space-frame will deploy four independent satellites:
ASUSAT is a microsatellite developed and built by the students at Arizona State University and sponsored for launch by Orbital.
Opal is a microsatellite developed and built by the students at Stanford University, which will deploy several picosatellites.
Falcosat is a microsatellite developed and built by cadets and faculty at the United States Air Force Academy.
Optical Calibration Sphere Experiment (OCSE) is an inflatable, reflective calibration sphere for use by the USAF Starfire Optical Range. It was built by L"Garde, Inc. under contract to the Air Force Research Laboratory.
JAWSAT will also support two other experiments that will remain attached to its MPA frame. The MPA will be separated from the LV fourth stage assembly after all secondary payloads are released.
It carries the Attitude Controlled Platform (ACP), which was designed and constructed jointly by OSSS and Weber State University (WSU), NASA Marshall Space Flight Center"s Plasma Experiment Satellite Tests (PEST) and a deployment imaging system developed by OSSS and WSU.
The deployment imaging system will capture an image of the separation of each payload to be used in the development of automated docking algorithms as well as provide visual indication of PL separation. These images will be stored onboard the JAWSAT MPA and downlinked at a later time when the JAWSAT is operational on-orbit.