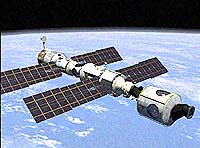 With two Russian built modules and a Progress spacecraft already on orbit at ISS, Russia is hoping to continue building more modules for the space station

Russia To Build Two More Modules For ISS
Moscow (Interfax) August 16, 2000 - Russia's Khrunichev space center will build two more modules and a cargo ship for the International Space Station (ISS), the center's general director said.

"We are now working on a unified docking module to which cargo transport ships and research modules will be docked in future, a new cargo transport ship and, to-gether with Boeing, on a multifunctional commercial services module," Anatoly Kiselyov said in an interview with Interfax.

"What is completed first will depend on the regular-ity of funding for the federal program of Russian partici-pation in the construction of the ISS," Kiselyov said.

He said that "right up to the docking of the Russian service module Zvezda with the ISS, financing for the further development of the Russian segment of the sta-tion was virtually frozen, because it was not possible to foresee how the launch and docking would go."

"Now that we managed our task despite unbelieva-bly difficult financial conditions, we hope that funds for the next, docking, module will start flowing," Kiselyov said.

The docking module will have six ports: one for docking with the service module, a second, central port for docking of ships and the remaining four for linking up the research modules and cargo compartment. This module will also have an arm that will be able to intercept new elements of the station (along the axis) and direct them to one of the side units.

The new cargo ship on which the Khrunichev center is working will have a payload of about 10 tonnes, com-pared to the 2.3 tonnes of existing Progress ships. Kise-lyov said it was developed based on the outside meas-urements of the Zarya cargo module that is already in or-bit, but it "has a different module construction with very interesting design solutions."

Since "every rocket launch is big money," it makes more sense to service the ISS with a bigger cargo ship, as it is almost three times the size of the Mir space station and will have a permanent crew of seven, thus requiring much more cargo, Kiselyov said. It makes more sense to launch a big ship once a year to supply the ISS with fuel and large-volume cargo, and deliver current supplies with Progress ships, he said.

The new ship's interior configuration will be flexible so as to accommodate various types of cargo, and non-standard cargo may also be strapped to the outside. This is how the problem is solved on the U.S. shuttle, but it costs more than $500 million to launch, while one-time Russian launches cost $60 million-$70 million at world prices, Kiselyov said.

Copyright 2000 Interfax. All rights reserved. The material on this page is provided by Interfax and may not be published, broadcast, rewritten or redistributed.

ISS Portal at NASA
SPACE TRAVEL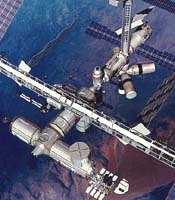 Boeing, Khrunichev Propose Commercial Space Module
Farnborough - July 27, 2000 - Boeing and Khrunichev State Research and Production Space Center have announced a cooperative planning effort to market a commercial space module (CSM) that could attach to the International Space Station (ISS).
Thanks for being here;
We need your help. The SpaceDaily news network continues to grow but revenues have never been harder to maintain.

With the rise of Ad Blockers, and Facebook - our traditional revenue sources via quality network advertising continues to decline. And unlike so many other news sites, we don't have a paywall - with those annoying usernames and passwords.

Our news coverage takes time and effort to publish 365 days a year.

If you find our news sites informative and useful then please consider becoming a regular supporter or for now make a one off contribution.


SpaceDaily Contributor
$5 Billed Once

credit card or paypal

SpaceDaily Monthly Supporter
$5 Billed Monthly

paypal only