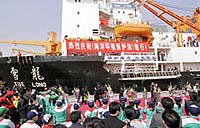 Homecoming ceremony at Gaoqiao Dock near the Shanghai harbour. (Xinhua photo)

China's Antarctic 2000 Expedition Finds New Meteorite Field
by Wei Long
Beijing - April 12, 2000 - The People's Daily reported last Wednesday (5th) that the 16th Antarctic research expedition team has returned home "triumphantly," with government officials joining a large crowd to welcome the research ship Xuelong's return to Shanghai.

Dignitaries who attended the ceremony include Chen Lianzeng, Vice-chief of the State Bureau of Oceanography (SBO), key officers from the SBO-Shanghai branch, and head officials from other participating departments in Shanghai.

Returning from the Antarctic expedition were 137 team members, including five foreign scientists, and members from the 15th expedition who spent the past winter living and working in the Chinese antarctic research base station Zhongshan ("Middle Mountain").

The 16th Antarctic research expedition is the last of this century. The team successfully completed research tasks, and restocked supplies and performed maintenance at both Chinese base stations Zhongshan and Changcheng ("Great Wall").

The expedition team spent 44 days in field studies at Grove Mountains. During that time the team had encountered extreme weather conditions, including blizzards, on several occasions. Key accomplishments are:
Collecting large volume of data which enabled the production of a 1:25,000 scale topographical map of the 110 sq. km. core area of Grove Mountains.
Discovering a new meteorite strewn field at the bottom of a cliff and collecting 28 meteorites.
Observing and collecting rock, soil, ice and air samples in ice crevices.
While sailing in the southern ocean, the Chinese research vessel/icebreaker Xuelong ("Snow Dragon") carried out survey programs, including key research agenda set forth by the National Nature Fund. Xuelong also participated in the Indian Ocean Experiment (INDOEX), which was an international research project to study the Indian Ocean carbon cycle and its effects on global climate change.

After completing the task of "One Vessel Two (base) Stations", Xuelong left Antarctica on March 1. The vessel spent a total of 157 days navigating in the open sea and had travelled 27,053-naut. mi. (50,102-km.), thus setting a new range record.

FROZEN ROCKS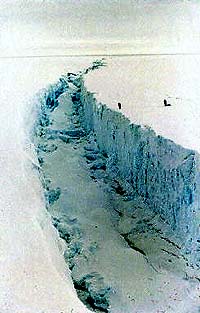 Chinese Scientists Find Meteorites In Antarctica
Beijing - February 18, 2000 - Ten scientists with the China Research Team discovers and retrieves 28 meteorites in the current Antarctica expedition, Xinhua News Agency reports. According to news from the State Bureau of Oceanography, the meteorites were found at the bottom of a cliff in Grove Mountains.
Thanks for being here;
We need your help. The SpaceDaily news network continues to grow but revenues have never been harder to maintain.

With the rise of Ad Blockers, and Facebook - our traditional revenue sources via quality network advertising continues to decline. And unlike so many other news sites, we don't have a paywall - with those annoying usernames and passwords.

Our news coverage takes time and effort to publish 365 days a year.

If you find our news sites informative and useful then please consider becoming a regular supporter or for now make a one off contribution.


SpaceDaily Contributor
$5 Billed Once

credit card or paypal

SpaceDaily Monthly Supporter
$5 Billed Monthly

paypal only