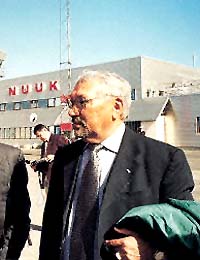 File photo: Greenland's Prime Minister Jonathan Motzfeldt at Nuuk's airport 07 July 2000. Greenland is part of the state community with Denmark and the Faroe Islands, but not a member of the European Union. Photo by Soeren Madsen - Copyright AFP/SOEREN MADSEN 2000

Greenland Divided Over US Missile Shield
Nuuk (AFP) August 23, 2000 - Greenland's government was split Tuesday over whether to support Washington's controversial national missile defence (NMD) shield plan which would entail modernising a US base in the country.

Greenland's Social Democrat Prime Minister Jonathan Motzfeldt said on Danish television that he was "satisfied" with the meeting.

He voiced his personal support for the scheme.

"I can't see any problems if the Americans develop a defence system. It is neither an offensive nor a nuclear project. And it comes within the ambit of the normal use of the US radar base at Thule."

However Greenland's far leftist Deputy Prime Minister Josef Motzfeldt "categorically" rejected the NMD scheme.

"We are against the American plans which would relaunch the arms race," he told Danish DR1 television.

Denmark handles foreign policy and defence matters for Greenland.

The US base at Thule, northwest Greenland, set up in 1951, would provide a key link in the NMD plan should it be deployed, but would require substantial modernisation and development.

NMD is vehemently opposed by Russia, which says it would violate the terms of the 1972 Anti-Ballistic Missile (ABM) treaty and, along with China, sees it as a direct threat to their nuclear deterrent capabilities.

European allies of the United States have also expressed deep concern about the system which they fear could spark another nuclear arms race.

Visiting US Under Secretary of State for Arms Control and International Security Affairs, John Holum, told the same television channel that his meetings with Greenland politicians and officials had been "very useful".

"We didn't ask for anything concrete. It was just a discussion," he said.

The United States considers the Thule base to be one of the five main links in the putative NMD system, envisaged to provide protection against missiles launched by hostile states such as Libya, Iraq and North Korea.

US President Bill Clinton is expected to decide within weeks whether or not to go ahead with the expensive missile shield scheme.

Holum's visit to Greenland, an autonomous territory of Denmark, is a sign of a new era here.

Copyright 2000 AFP. All rights reserved. The material on this page is provided by AFP and may not be published, broadcast, rewritten or redistributed. SPACEWAR.COM

US Could Decide On Missile Shield Soon
Nuuk (AFP) August 21, 2000 - A senior US official suggested Monday that the United States could make a decision on the controversial nuclear missile defence (NMD) shield within a week.
Thanks for being here;
We need your help. The SpaceDaily news network continues to grow but revenues have never been harder to maintain.

With the rise of Ad Blockers, and Facebook - our traditional revenue sources via quality network advertising continues to decline. And unlike so many other news sites, we don't have a paywall - with those annoying usernames and passwords.

Our news coverage takes time and effort to publish 365 days a year.

If you find our news sites informative and useful then please consider becoming a regular supporter or for now make a one off contribution.


SpaceDaily Contributor
$5 Billed Once

credit card or paypal

SpaceDaily Monthly Supporter
$5 Billed Monthly

paypal only