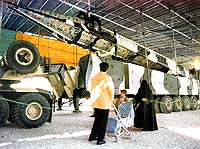 Picture dated 02 February 1999 shows an Iranian family walking past an Iranian Shahab-3 surface to surface missile at Tehran's main fairground at a weapons exhibition to commemorate the Islamic Revolution's 20th anniversary. The Iranian army announced 15 July 2000 that it had successfully tested its Shahab-3 missile for the second time, 'in order to verify its compliance with international standards.' With a 1,300 km (800 mile) range, the missile, first tested in July 1998, is capable of hitting most countries in the region, including Israel. Copyright AFP Photos

Cohen Claims Iran Could Accelerate Missile Plans
by Jim Mannion
Hickam AFB (AFP) July 17, 2000 - US Defense Secretary William Cohen warned Monday of the risk of an accelerated pace of missile development by Iran in the wake of its successful Shahab 3 missile test.

"I think any time you have success in a particular missile system, it gives you confidence to move forward with more tests with greater capability," Cohen said.

"It has a way of growing almost exponentially," he told reporters as he flew home at the end of a weeklong trip to China and Australia.

Iran announced Saturday that it successfully tested the Shahab 3, a medium range missile that US officials say failed in its first flight test in 1998.

The missile's range, estimated at 1,300 kilometers (800 miles), would put Israel within striking range but not the United States or Europe.

Nevertheless, Cohen said the test underscored the need for a national missile defense (NMD) system capable of protecting the United States against a limited attack by countries like North Korea and Iran.

"I think this is an issue that's not going to go away with the elections," he said.

He said "if there is any delay in the program, then another president will have to face it at some point because the threat is going to expand."

President Bill Clinton is supposed to decide in late summer or early fall whether to go ahead with construction of the first piece of a national missile defense system, the site of targeting radar in Alaska.

The failure of a crucial NMD test this month -- the second miss of three attempted intercepts -- has raised doubts about the system's technological feasibility, however.

It also faces intense opposition from Russia and China, and misgivings among NATO allies who worry it will ignite an arms race and unsettle relations with Moscow and Beijing.

But Cohen has not ruled out recommending deployment of the system, citing the threat posed by the spread of missile technology.

Pentagon officials say that unless construction begins this spring on construction of the Alaskan radar site, the system it envisions cannot be deployed by 2005.

US intelligence believes that North Korea will have a long-range missile capable of reaching the United States by 2005, and that Iran is not far behind.

Israel estimates that Iran is on track to acquire a nuclear capability by 2005 and nuclear missiles able to hit Israel by 2010, according to a senior Israeli military official.

US intelligence is currently updating its estimate of the missile threat before Clinton makes his decision.

In Sydney, Cohen said the Shahab-3 test will have to be taken into account in assessing how long it will take Iran to develop a missile capable of reaching the United States or Europe.

"It is one of the reasons why it is important for the United States to undertake to research, develop and ultimately deploy an NMD system that would protect against a country such as Iran posing a threat to the United States," he said.

Copyright 2000 AFP. All rights reserved. The material on this page is provided by AFP and may not be published, broadcast, rewritten or redistributed.
SPACEWAR.COM


US Presidential Candidates Differ On Missile Defense Stance
Washington (AFP) July 16, 2000 - US presidential hopefuls voiced their views on US missile defenses Sunday, with Democratic Vice President Al Gore seemingly cautious and Republican Governor George W. Bush gung-ho over defense policy that may now be decided by the next president.
Thanks for being here;
We need your help. The SpaceDaily news network continues to grow but revenues have never been harder to maintain.

With the rise of Ad Blockers, and Facebook - our traditional revenue sources via quality network advertising continues to decline. And unlike so many other news sites, we don't have a paywall - with those annoying usernames and passwords.

Our news coverage takes time and effort to publish 365 days a year.

If you find our news sites informative and useful then please consider becoming a regular supporter or for now make a one off contribution.


SpaceDaily Contributor
$5 Billed Once

credit card or paypal

SpaceDaily Monthly Supporter
$5 Billed Monthly

paypal only