Huntsville - June 28, 2000 -
The U.S. Army Space and Missile Defense Command, Huntsville, AL, today awarded Lockheed Martin an approximate $4 billion contract to begin the Engineering and Manufacturing Development (EMD) phase of the Theater High Altitude Area Defense (THAAD) program.

Today's contract announcement comes almost one year after the THAAD team recorded its historic first intercept of a simulated theater ballistic missile target -- June 10, 1999.

Following that watershed event in Theater Missile Defense history, the THAAD team continued to demonstrate its commitment to mission success. On Aug. 2, 1999 the team achieved its second intercept, further demonstrating the feasibility of hit-to-kill technology and paving the way for the program to move into EMD.

"Today is a great day for the service men and women of our country, our customer, Lockheed Martin and the entire THAAD team," said Jim Berry, president, Lockheed Martin Missiles & Fire Control.

"We committed to our customer that we would design, develop and field a defensive missile system to protect our soldiers from the ever growing threat of theater ballistic missile attack.

Today, we are one step closer to making that commitment a reality. I salute the entire THAAD team for their perseverance and dedication in moving this program in to EMD and look forward to future Mission Success," added Berry.

"We learned important lessons from the Program Definition/Risk Reduction phase of the THAAD program and are now fully prepared to move forward -- shoulder-to-shoulder with the U.S. Army and the Ballistic Missile Defense Organization (BMDO) -- on this critical national initiative," said Ed Squires, Lockheed Martin THAAD vice president.

"I am extremely proud of what the entire THAAD team has accomplished. We view the EMD program as an exciting challenge and an important opportunity to make a real and lasting contribution to national and international security, he added."

"It's with great pride that we award the THAAD EMD contract to Lockheed Martin," said U.S. Army THAAD Program Manager, Col. Patrick O'Reilly. "By working together, the THAAD government and industry team has set the stage for a highly successful EMD program. "By achieving this critical milestone, we now are one more step closer to getting this urgently needed system to the American soldier as soon as possible. It is a great day for whole THAAD team."

The THAAD system is being developed in two phases. The first phase of the program is the main focus of the EMD contract. During this phase, the THAAD team will demonstrate the system's design and operational capabilities through a series of ground and flight tests. The team will also validate system manufacturing processes through low-rate initial production.

The purpose of this phase is to complete the missile and radar hardware and other system elements necessary to satisfy the Key Performance Parameters specified in the system's Operational Requirements Document (ORD). This phase of the program will provide a substantial war fighting capability to the U.S. Army by 2007.

The second phase, which will come later, will complete planned battle management and other software enhancements to provide full ORD compliance.

Squires noted that this two-phased approach offers the Army "an affordable, flexible, low-to moderate risk program that effectively balances the competing demands of operational effectiveness, availability, risk and cost."

The result is a program that will provide an operationally effective theater missile defense capability in the near term, while preserving the ability to maintain system effectiveness against the evolving theater ballistic missile threat.

For Lockheed Martin, THAAD represents the culmination of several decades of development and testing activities conducted under earlier BMDO programs -- including the Homing Overlay Experiment and the Exo-atmospheric Re-entry Interceptor Subsystem.

Technologies such as body-to-body intercept and target tracking and characterization, originally conceived and developed under these programs, have been applied to THAAD so the U.S. Army and its allies can field a robust, flexible and mobile theater missile defense.

THAAD EMD engineering work will be performed at the Lockheed Martin Space Systems Sunnyvale, CA and Huntsville, AL facilities under the program direction of Lockheed Martin Missiles & Fire Control, Dallas, TX. The THAAD program is managed by the BMDO and executed by the U.S. Army Program Executive Office, Air and Missile Defense, and the U.S. Army THAAD Project Manager in Huntsville, AL.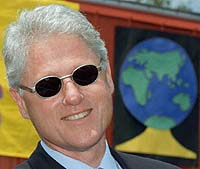 Decision Time - Copyright AFP Photos

US-Russia talks shed no light on Russian missile defense proposal: Pentagon
Washington (AFP) June 29, 2000 - Russia shed no new light on its idea for a "boost phase" missile defense system in talks with US officials in Moscow this week, but agreed to further discussion of the ballistic missile threat, the Pentagon said Thursday.

The Russians also agreed to take part in joint theater missile defense exercises with the United States, Pentagon spokesman Kenneth Bacon said. The talks, which began Monday and ended Wednesday, covered the gamut of US-Russian defense cooperation, he said.

"I think it's fair to say that we had a very good discussion, but we did not make firm progress in the area of national missile defense or the ABM Treaty," Bacon said.

The Pentagon has been keenly interested in Russia's idea for a "boost phase" missile defense system since Russian President Vladimir Putin suggested earlier this month that Russia and NATO work together on an umbrella to protect Europe against missile attack.

Russian military leaders indicated in talks in Moscow with US Defense Secretary William Cohen June 13 that they are working on a system to shoot down long-range missiles as they rocket toward space in the first minutes after launch, or the "boost phase" of the launch.

Russian officials have asserted that their concept would not violate the landmark 1972 Anti-Ballistic Missile (ABM) Treaty, which does prohibit the kind of national missile defense system the United States is contemplating.

The vagueness and timing of the Russian proposal -- floated during an intensifying debate in the United States and Europe over the deployment of the US system -- has raised US suspicions that it is a ploy to drive a wedge in the alliance.

In the follow-up talks led by Assistant Secretary of Defense Ted Warner and the commander of Russia's strategic rocket forces, Colonel General Vladimir Yakovlev, the Russians brushed off US requests for more information about their plan.

"We expressed interest in learning more about their system and said we would very much like to sit down and discuss it further with them, but they did not make any promises to do that and the ball is really in their court now in terms of proceeding with further discussions on boost phase intercept." Bacon said.

They did agree to hold further discussions on each side's view of the missile threat, Bacon said, but it was unclear when those talks would be held.

Separately, the two sides agreed to resume joint theater missile defense exercises, which the two countries last held in 1998.

US and Russian teams will take part in a command post exercise in Fort Bliss, Texas, in which each side will practice procedures for launching interceptors against short and medium range missiles, Bacon said.