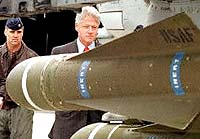 Face to face with Presidential reality. Photo by Martin Athenstaedt - Copyright AFP 2000

Lawyers Advise Clinton To Start Building Missile Shield
Washington (AFP) June 15, 2000 - Government lawyers have advised US President Bill Clinton that he can start building the first piece of a national missile defense (NMD) shield without violating the 1972 ABM treaty with Russia, The New York Times said Thursday.

The lawyers' analysis, requested by the White House, rests on a unilateral interpretation of the Anti-Ballistic Missile (ABM) treaty that would allow different stages of construction well short of full deployment of the missile shield, unidentified senior officials told the daily.

While Russian opposition is expected to any construction of NMD, the interpretations offer Clinton a way to announce that he would go ahead with NMD while letting the next administration decide whether to break the treaty, the officials said.

Clinton's mandate will end in January. He is expected to decide later this year whether to deploy the 60-billion-dollar (62.8-billion-euro) system, which could be in place by 2005.

Russia strongly opposes NMD, saying it would violate the ABM treaty, which includes a legal understanding that even breaking ground for a missile defense would constitute a violation of the treaty.

The United States seeks to modify the treaty with Russia's consent to allow limited missile defense systems that can protect against accidental nuclear attacks or strikes from rogue nuclear states such as Iraq and North Korea.

"Basically the administration is working hard to free up as much wiggle room as it can before it has to make a decision," one official said.

"And that makes sense," he added. "There's still a long way to go to come to an arrangement with the Russians."

The lawyers' advice would overturn the legal understanding on what would constitute a violation of the ABM treaty, but may be welcomed by Russian President Vladimir Putin to the extent it would avoid a diplomatic crisis over NMD early in his presidency, the daily said.

The interpretations offer three construction options, from pouring a concrete pad to raising a concrete structure with metal tracks to hold a radar.

"There are several points where you could reach a violation of the treaty," Joint Chiefs of Staff spokesman Stephen Pietropaoli was quoted as saying by the daily. "The lawyers have produced points along a continuum and the legal analysis to back each up."

Putin has vowed to tear up all arms controls accords with the United States if Washington unilaterally decides to deploy NMD.

On Tuesday, he offered to work with the United States to develop "a boost-phase" anti-missile system but warned that any change in the landmark ABM treaty would ignite a new arms race.

US Defense Secretary William Cohen said Tuesday in Moscow that the United States was interested in exploring the Russian proposal, but not as a substitute for its own national missile defense system.

ABMDAILY

A Look atůMissile Defense
Washington - June 11, 2000 - In the face of new threats, a national missile defense system will discourage attacks against the United States. It will enhance deterrence and improve stability. An America that is adequately defended will be a better ally and a continuing force for peace and stability concludes US Defense Secretary William Cohen in a set piece published Sunday in the Washington Post.
Thanks for being here;
We need your help. The SpaceDaily news network continues to grow but revenues have never been harder to maintain.

With the rise of Ad Blockers, and Facebook - our traditional revenue sources via quality network advertising continues to decline. And unlike so many other news sites, we don't have a paywall - with those annoying usernames and passwords.

Our news coverage takes time and effort to publish 365 days a year.

If you find our news sites informative and useful then please consider becoming a regular supporter or for now make a one off contribution.


SpaceDaily Contributor
$5 Billed Once

credit card or paypal

SpaceDaily Monthly Supporter
$5 Billed Monthly

paypal only