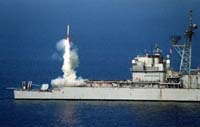 Illustration of a missile launched at sea - AFP Photos 2000

Sea Based Missile Shield Could Be First System
Washington (AFP) May 27, 2000 - Top US defense experts have concluded that a sea-based missile defense system could be built with existing technology as the Clinton administration struggles to find a way to create credible land-based missile defenses, the Washington Post reported Saturday.

The system would be an upgraded version of the US Navy's Aegis air defenses already deployed on 84 cruisers and destroyers, said the Post, citing a classified Defense Department study.

The report by the Defense Department's Ballistic Missile Defense Organization was expected to add fuel to the debate over the need for a land-based national missile defense system, which has already failed several key tests and was expected to cost up to 60 billion dollars.

Clinton is to decide later this year whether to deploy a land-based defensive shield starting in 2005, a plan, which has raised ire in Europe, China and Russia.

A White House spokesman defended the land-based system, which would place 20 interceptor missiles in the state of Alaska in its first phase.

"Our proposed national missile defense system is the fastest, most affordable, most technologically mature approach," spokesman P.J. Crowley was quoted by the Post as saying.

The short and medium ranges of the existing sea-based system "are not capable of protecting all 50 states from strategic ballistic missiles," he added.

But several experts including former CIA director John Deutch have argued that a sea-based system should be deployed while the land-based system is being debated.

One of its advantages, according to the Post, is that it could be deployed against specific nations -- in ships anchored off North Korea, for example -- thus minimizing diplomatic fallout of the broader land-based defense systems.

"It is much easier to put a lid on North Korea ... than it is to put an umbrella over the whole of the United States," Richard Garwin, a senior fellow at the Council on Foreign Relations, was quoted as saying.

It was not immediately clear whether a sea-based system would be in compliance with the 1972 Anti-Ballistic Missile Treaty.

The United States is seeking to amend the treaty to allow deployment of land-based national defenses.

Copyright 2000 AFP. All rights reserved. The material on this page is provided by AFP and may not be published, broadcast, rewritten or redistributed. MILSPACE

US Admiral Advocates Ship Based Missile Defense
Washington (AFP) February 28, 2000 - The US Navy's top officer has advocated that the Pentagon broaden its missile defense systems to include ship-launched interceptors, the Washington Post reported Monday.
Thanks for being here;
We need your help. The SpaceDaily news network continues to grow but revenues have never been harder to maintain.

With the rise of Ad Blockers, and Facebook - our traditional revenue sources via quality network advertising continues to decline. And unlike so many other news sites, we don't have a paywall - with those annoying usernames and passwords.

Our news coverage takes time and effort to publish 365 days a year.

If you find our news sites informative and useful then please consider becoming a regular supporter or for now make a one off contribution.


SpaceDaily Contributor
$5 Billed Once

credit card or paypal

SpaceDaily Monthly Supporter
$5 Billed Monthly

paypal only