Clean Clothes and Clean Missiles

Missile Shield Could Spark Arms Race
Washington (AFP) May 28, 2000 - Intelligence officials are warning that a US decision to build a national missile defense system could set off a nuclear arms race between China, India and Pakistan, The New York Times reported Sunday.

Seeking to assuage Russia's concerns, US officials have repeatedly said the system under consideration would not be able to neutralize Moscow's strategic nuclear arsenal, which still includes more than 5,000 warheads.

But US officials acknowledge the anti-missile system being considered by the White House could significantly undercut or even neutralize China's small nuclear force, which consists of 18 land-based and 12 submarine-based missiles, The Times reported.

The daily said that could lead China to build up its nuclear arsenal, which, in turn, was likely to prompt China's regional rival, India, to do the same.

"And if India increases its missiles, then Pakistan does," the Times quoted an unnamed senior US official as saying.

"We don't deny to the Chinese that the system has some capability against Chinese missiles, but that is not what it is designed to do," US Undersecretary of Defense Walter Slocombe told the daily.

But the Chinese counter that they cannot be sure that a future US administration would not use the system against them, according to the report.

President Bill Clinton is set to make a decision on whether to deploy a missile defense system later this year.

Copyright 2000 AFP. All rights reserved. The material on this page is provided by AFP and may not be published, broadcast, rewritten or redistributed. MILSPACE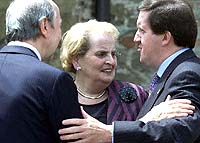 US Defends Missile Shield, But Europe Skeptical
Florence (AFP) May 24, 2000 - The United States defended its plans for an anti-missile defense shield Wednesday at the NATO foreign ministers' meeting, but some European allies remained skeptical.
Thanks for being here;
We need your help. The SpaceDaily news network continues to grow but revenues have never been harder to maintain.

With the rise of Ad Blockers, and Facebook - our traditional revenue sources via quality network advertising continues to decline. And unlike so many other news sites, we don't have a paywall - with those annoying usernames and passwords.

Our news coverage takes time and effort to publish 365 days a year.

If you find our news sites informative and useful then please consider becoming a regular supporter or for now make a one off contribution.


SpaceDaily Contributor
$5 Billed Once

credit card or paypal

SpaceDaily Monthly Supporter
$5 Billed Monthly

paypal only