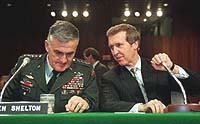 File Photo: US Secretary of Defense William Cohen confers with Chairman of the Joint Chiefs of Staff Gen. Henry Shelton before answering a question during testimony before the US Senate Armed Services Committee 06 October, 1999 on Capitol Hill in Washington, DC. The committee, conducting hearings on the Comprehensive Test Ban Treaty, is attempting to determine if the US' nuclear stockpile can be properly maintained in the absence of testing. If the Senate were to ratify the treaty, all testing of nuclear weapons would be banned. AFP PHOTO/ Joyce Naltchayan


US Military Chief Says June OK For Missile Decision
Washington (AFP) February 15, 2000 - The chairman of the Joint Chiefs of Staff dismissed concern here Tuesday that a June deadline for a decision on the deployment of a US missile defense system was premature.

"From my perspective, I am comfortable with the June deadline," Shelton told journalists following a report that the Pentagon's top weapons' tester was asking for a delay.

The Washington Post said Tuesday that a Pentagon report by its director of operational testing and evaluation, Philip Coyle, said the deadline was too early.

"Undue pressure has been placed on the program to meet an artificial decision point," the Post quoted the report as saying.

US President Bill Clinton will decide on whether to build by 2005 the controversial multi-billion dollar system conceived to knockout warheads targeting the continental United States.

Deployment of the missile shield would require renegotiation of the 1972 Anti-Ballistic Missile treaty with Russia, which Moscow has so far refused.

Clinton will base his judgement on the Pentagon's own assessment of the feasibility of building the system, dubbed National Missile Defense (NMD), by 2005.

The Pentagon has twice tested its missile interceptor technology, recording one success and one failure. A third test is planned for May.

"We recognize the NMD is a very high-risk program," said Shelton.

"We are on a fast track and it carries with it a very high degree of risk in terms of keeping it right."

But he said that Pentagon technical experts will by June be in a position to advise on whether the system should be deployed.

Washington has justified the plan to build the system as a means of defense against rogue states that have or are acquiring missiles capable of striking the continental United States , most frequently citing North Korea.

Copyright 1999 AFP. All rights reserved. The material on this page is provided by AFP and may not be published, broadcast, rewritten or redistributed. MILSPACE

Missile Interceptor Easily Fixed
by Jim Mannion
Washington (AFP) February 8, 2000 - An easy-to-fix leak in a coolant pipe appears to have caused a missile interceptor to miss its target last month in a test of the National Missile Defense (NMD) system, a Pentagon official said Tuesday.
Thanks for being here;
We need your help. The SpaceDaily news network continues to grow but revenues have never been harder to maintain.

With the rise of Ad Blockers, and Facebook - our traditional revenue sources via quality network advertising continues to decline. And unlike so many other news sites, we don't have a paywall - with those annoying usernames and passwords.

Our news coverage takes time and effort to publish 365 days a year.

If you find our news sites informative and useful then please consider becoming a regular supporter or for now make a one off contribution.


SpaceDaily Contributor
$5 Billed Once

credit card or paypal

SpaceDaily Monthly Supporter
$5 Billed Monthly

paypal only