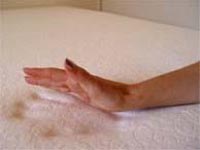 Tempur-Pedic Mattress Comparison & Memory Foam Mattress Review

..
Getting the biggest bang out of plasma jets
Bursts of plasma, called plasma jets, have numerous uses ranging from the development of more efficient engines, which could one day send spacecraft to Mars, to industrial uses like spraying nanomat ... more

..
New efficient, low-temperature catalyst for hydrogen production
Scientists have developed a new low-temperature catalyst for producing high-purity hydrogen gas while simultaneously using up carbon monoxide (CO). The discovery-described in a paper set to publish ... more

..
Rosatom Develops Radiation-Powered Electricity Source for Medicine, Outer Space
Deputy head of the Russia's "Luch" laboratory Aleksander Pavkin said that a small-scale power source created in laboratory will be completely safe with respect to radiation, since the isotope does n ... more

..
Clean energy stored in electric vehicles to power buildings
Stored energy from electric vehicles (EVs) can be used to power large buildings - creating new possibilities for the future of smart, renewable energy - thanks to ground-breaking battery research fr ... more

..
Battery improvements spark HEV EV market breakthrough
Advances in battery technology are challenging automakers and their suppliers to meet higher market demand for hybrid and electric vehicles without compromising quality. 2017 marks the 20th annivers ... more

..
Liquified gas electrolytes power new lower-temperature battery
Scientists at the University of California, San Diego have developed new electrolytes capable of powering batteries at temperatures as low as negative 80 degrees Celsius. ... more

..
Zig-zagging device focuses high-energy radiation emissions
There's no substitute for using the right tool for the job at hand. Using low-energy radiation sources simply isn't suitable for certain tasks: equipment used in cancer treatment requires a strong, ... more

..
A seaweed derivative could be just what lithium-sulfur batteries need
Lithium-sulfur batteries have great potential as a low-cost, high-energy, energy source for both vehicle and grid applications. However, they suffer from significant capacity fading. Now scientists ... more