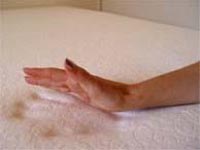 Tempur-Pedic Mattress Comparison & Memory Foam Mattress Review

..
In atomic propellers, quantum phenomena can mimic everyday physics
In molecules there are certain groups of atoms that are able to rotate. This movement occurs under the influence of random stimuli from the environment and is not continuous but occurs in jumps. It ... more

..
The largest virtual Universe ever simulated
Researchers from the University of Zurich have simulated the formation of our entire Universe with a large supercomputer. A gigantic catalogue of about 25 billion virtual galaxies has been generated ... more

..
X-ray study reveals way to control molecular vibrations that transmit heat
Scientists at the U.S. Department of Energy's (DOE) Brookhaven National Laboratory have developed a new way to track dynamic molecular features in soft materials, including the high-frequency molecu ... more

..
Muon magnet's moment has arrived
What do you get when you revive a beautiful 20-year-old physics machine, carefully transport it 3,200 miles over land and sea to its new home, and then use it to probe strange happenings in a magnet ... more

..
Cosmic inflation: Higgs says goodbye to his 'little brother'
In the first moments after the Big Bang, the Universe was able to expand even billions of billions of billions of times faster than today. Such rapid expansion should be due to a primordial force fi ... more

..
New confirmation of Einstein's General Theory of Relativity
Albert Einstein predicted that whenever light from a distant star passes by a closer object, gravity acts as a kind of magnifying lens, brightening and bending the distant starlight. Yet, in a 1936 ... more

..
Physicists use numerical 'tweezers' to study nuclear interactions
Researchers from North Carolina State University and the Ruhr-Universitat Bochum have developed numerical "tweezers" that can pin a nucleus in place, enabling them to study how interactions between ... more

..
Neutrino discovery: A step closer to finding CP violation
The different rates of neutrino and anti-neutrino oscillations recorded by an international collaboration of researchers in Japan - including from Kavli IPMU - is an important step in the search for ... more