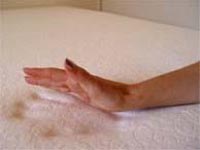 Tempur-Pedic Mattress Comparison & Memory Foam Mattress Review

..
Astrocytes keep time for brain, behavior
Until recently, work on biological clocks that dictate daily fluctuations in most body functions, including core body temperature and alertness, focused on neurons, those electrically excitable cell ... more

..
Finding the 'ghost particles' might be more challenging than what we thought
Dubbed as "ghost particles," neutrinos have no electric charge and their masses are so tiny that they are difficult to observe. The sun, nuclear reactors, supernovae explosions create them, when the ... more

..
Breaking the supermassive black hole speed limit
A new computer simulation helps explain the existence of puzzling supermassive black holes observed in the early universe. The simulation is based on a computer code used to understand the coupling ... more

..
Giant magnetic fields in the universe
Astronomers from Bonn and Tautenburg in Thuringia (Germany) used the 100-m radio telescope at Effelsberg to observe several galaxy clusters. At the edges of these large accumulations of dark matter, ... more

..
Futuristic clock prepared for space
No one keeps time quite like NASA. Last month, the space agency's next-generation atomic clock was joined to the spacecraft that will take it into orbit in late 2017. That instrument, the Deep ... more

..
Scientists evade the Heisenberg uncertainty principle
State-of-the-art sensors, such as MRIs and atomic clocks, are capable of making measurements with exquisite precision. MRI is used to image tissues deep within the human body and tells us whether we ... more

..
Does the universe have a rest frame?
Physics is sometimes closer to philosophy when it comes to understanding the universe. Donald Chang from Hong Kong University of Science and Technology, China, attempts to elucidate whether the univ ... more

..
NASA's swift mission maps a star's 'death spiral' into a Black Hole
Some 290 million years ago, a star much like the sun wandered too close to the central black hole of its galaxy. Intense tides tore the star apart, which produced an eruption of optical, ultraviolet ... more