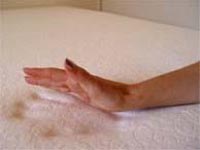 Tempur-Pedic Mattress Comparison & Memory Foam Mattress Review

..
Primordial black holes may have helped to forge heavy elements
Astronomers like to say we are the byproducts of stars, stellar furnaces that long ago fused hydrogen and helium into the elements needed for life through the process of stellar nucleosynthesis. ... more

..
Detecting radio waves with entangled atoms
In a study published in Physics Review Letters, and highlighted by APS Physics, ICFO researchers demonstrate a new technique for the coherent the detection of radio frequency magnetic fields using a ... more

..
Canadian-led study akin to antimatter forensics
A Canadian-led investigation has opened a new chapter in antimatter research. In a study published in Nature, the ALPHA Collaboration reports the first detailed observation of spectral lines f ... more

..
World's smallest neutrino detector finds big physics fingerprint
After more than a year of operation at the Department of Energy's (DOE's) Oak Ridge National Laboratory (ORNL), the COHERENT experiment, using the world's smallest neutrino detector, has found a big ... more

..
It's never too cold for quantum
Normally, there needs to be a change in temperature in order to see a phase transition: a liquid gets cold, it freezes; a metal heats up, it loses its magnetic properties. But there are some p ... more

..
Riding the wave: Pioneering research tames nanoquakes
Researchers from the University of Exeter have pioneered a new technique to control high frequency sound waves, commonly found within everyday devices such as mobile phones. The research team, ... more

..
HRL develop a low-power cold-atom source for atomic clocks and physics experiments
HRL Laboratories, LLC, researchers have developed a reversible alkali atom source that runs at low power and low voltage, which is beneficial in applications such as smaller, more efficient, and ult ... more

..
Clever experiment documents multiscale fluid dynamics
University of Chicago physicists working in the nascent field of experimental vortex dynamics have, with unexpected help from a Sharpie marker, achieved the first measurements of an elusive but fund ... more