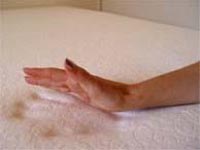 Tempur-Pedic Mattress Comparison & Memory Foam Mattress Review

..
NRL astrophysicist probes theory of black-hole accretion
Utilizing the Atacama Large Millimeter/submillimeter Array (ALMA), one of the most powerful telescopes in the world, U.S. Naval Research Laboratory (NRL) astrophysicist Dr. Tracy Clarke and an inter ... more

..
RIT professor predicts a universe crowded with black holes
A new study published in Nature presents one of the most complete models of matter in the universe and predicts hundreds of massive black hole mergers each year observable with the second generation ... more

..
X-ray echoes of a shredded star provide close-up of killer black hole
Some 3.9 billion years ago in the heart of a distant galaxy, the intense tidal pull of a monster black hole shredded a star that passed too close. When X-rays produced in this event first reached Ea ... more

..
Team of super bright galaxies in the early universe
Astronomers have identified a family of incredible galaxies that could shed further light on the transformation of the early universe known as the 'epoch of reionization.' Dr. David Sobral of Lancas ... more

..
Russian physicists create a high-precision 'quantum ruler'
Physicists from the Russian Quantum Center (RQC), MIPT, the Lebedev Physical Institute, and L'Institut d'Optique (Palaiseau, France) have devised a method for creating a special quantum entangled st ... more

..
Dormant Black Hole Eats Star, Becomes X-Ray Flashlight
Roughly 90 percent of the biggest black holes in the known universe are dormant, meaning that they are not actively devouring matter and, consequently, not giving off any light or other radiation. B ... more

..
Researchers refine method for detecting quantum entanglement
RMIT quantum computing researchers have developed and demonstrated a method capable of efficiently detecting high-dimensional entanglement. Entanglement in quantum physics is the ability of tw ... more

..
Breaking out: How black hole jets punch out of their galaxies
A simulation of the powerful jets generated by supermassive black holes at the centers of the largest galaxies explains why some burst forth as bright beacons visible across the universe, while othe ... more