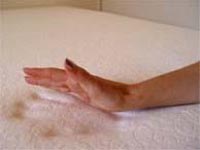 Tempur-Pedic Mattress Comparison & Memory Foam Mattress Review

..
Cerium hexaboride challenges physicists to come up with new theory
Scientists from MIPT and other research institutes and universities have discovered unusual phenomena occurring in a single cerium hexaboride (CeB?) crystal. By performing an electron spin resonance ... more

..
Magnifying time reveals fundamental rogue wave instabilities of nature
Researchers from INRS and the FEMTO-ST Institute in France have used a novel measurement technique that magnifies time to reveal how ultrafast intense pulses of light can be generated from noise on ... more

..
Spinning black hole swallowing star explains superluminous event
In 2015, the All Sky Automated Survey for SuperNovae (ASAS-SN) detected an event, named ASASSN-15lh, that was recorded as the brightest supernova ever - and categorised as a superluminous supernova, ... more

..
Blocks of ice demonstrate levitated and directed motion
Resembling the Leidenfrost effect seen in rapidly boiling water droplets, a disk of ice becomes highly mobile due to a levitating layer of water between it and the smooth surface on which it rests a ... more

..
High-tech glass plates to be used to discover the birth of new black holes
The University of Leicester is providing a new type of X-ray mirror to the French space agency, CNES, for the Chinese-French satellite 'SVOM' which is designed to discover and study Gamma-Ray Bursts ... more

..
Neutrons identify key ingredients of the quantum spin liquid recipe
Neutron scattering studies of a rare earth metal oxide have identified fundamental pieces to the quantum spin liquid puzzle, revealing a better understanding of how and why the magnetic moments with ... more

..
'Spooky' sightings in crystal point to extremely rare quantum spin liquid
Inside a new exotic crystal, physicist Martin Mourigal has observed strong indications of "spooky" action, and lots of it. The results of his experiments, if corroborated over time, would mean that ... more

..
High-precision magnetic field sensing
Researchers from the Institute for Biomedical Engineering, which is operated jointly by ETH Zurich and the University of Zurich, have succeeded in measuring tiny changes in strong magnetic fields wi ... more