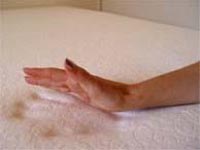 Tempur-Pedic Mattress Comparison & Memory Foam Mattress Review

..
Sorting the wheat from the chaff
Physicists from Ludwig-Maximilians-Universitaet (LMU) in Munich report that temperature gradients within pores in rock could have separated primitive biopolymers on the basis of their sequences - a ... more

..
Artificial comet holds clues to the origin of life
Researchers have for the first time shown that ribose, a sugar that is one of the building blocks of genetic material in living organisms, may have formed in cometary ices. To obtain this result, sc ... more

..
The 'R' in RNA is likely abundant in space, scientists say
By simulating conditions in space, scientists in France say they found ribose - the 'R' in RNA - is potentially present throughout the universe. ... more

..
How deep does life go?
One of the startling discoveries about life on Earth in the past 25 years is that it can - and does - flourish beneath the ocean floor, in the planet's dark, dense, rocky crust. The only way to get ... more

..
New Search for Signals from 20,000 Star Systems Begins
The SETI Institute has inaugurated a greatly expanded hunt for deliberately produced radio signals that would indicate the presence of extraterrestrial intelligence. Over the course of the next two ... more

..
NJIT researchers make a major cavefish discovery in Thailand
Researchers from New Jersey Institute of Technology (NJIT) have identified unique anatomical features in a species of blind, walking cavefish in Thailand that enable the fish to walk and climb water ... more

..
For bacteria, life in space is better than on Earth
Scientists are exploring long-term space travel from every conceivable angle. For a team of researchers at the University of California, Davis, the angle is bacteria. ... more

..
Female hybrid fish grows testicles, impregnates self
Researchers at Hull University in England recently happened upon a female cichlid "selfing" - having sex with herself. ... more