Smooth Surface On Telesto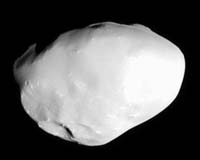 Telesto by Cassini.
by Staff Writers

Boulder CO (SPX) Feb 14, 2006

The Cassini spacecraft passed within a cosmic stone's throw of Telesto on Oct. 11, 2005, capturing this shot of one of Saturn's Trojan moons.

Tiny Telesto, only 24 kilometers or 15 miles across, appears to be mantled in fine, icy material, although a few craters and some outcrops and large boulders are visible. Its smooth surface does not appear to retain the record of intense cratering that most of Saturn's other moons possess. Cassini took the image in polarized green light with the spacecraft's narrow-angle camera at a distance of approximately 14,500 kilometers (9,000 miles). The image scale is 86 meters (283 feet) per pixel.
Related Links

Cassini
NASA

Cassini Sees Giant Lightning Storm On Saturn
Iowa City IA (SPX) Feb 14, 2006

Researchers are tracking an electrical storm on Saturn that has raged since at least Jan. 23 and covers an area larger than the continental United States, with lightning bolts more than 1,000 times stronger than those seen on Earth. The storm is a possible source of radio emissions thought to come from electrical discharges located deep within Saturn's atmosphere.