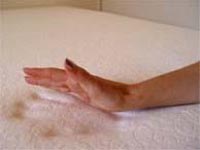 Tempur-Pedic Mattress Comparison & Memory Foam Mattress Review


..
For the Milky Way, it's snack time
Using the Sloan Digital Sky Survey, researchers have discovered a band, or stream, of stars believed to be the remnant of an ancient star cluster slowly being ingested by the Milky Way, Earth's home ... more

..
Why astronauts experience low blood pressure after returning to Earth from space
When astronauts return to Earth, their altitude isn't the only thing that drops-their blood pressure does too. This condition, known as orthostatic hypotension, occurs in up to half of those astrona ... more

..
A black widow's Tango Mortale in gamma-ray light
Pulsars are the compact remnants from explosions of massive stars. Some of them spin around their own axis hundreds of times per second, emitting beams of radiation into space. Until now, they could ... more

..
Record space junk cloud could threaten ISS: report
The explosion of a failed Russian rocket upper stage has created a space junk cloud of 500 pieces which could threaten the International Space Station, a report said Thursday. In one of the bi ... more

..
New crew docks with ISS: Russia
A new crew of two Russians and one American successfully docked with the International Space Station (ISS) Thursday, Russian mission control said. ... more

..
China to launch 11 meteorological satellites by 2020
China will launch 11 meteorological satellites before 2020 to boost the country's weather monitoring network, according to the country's meteorological satellite development plan (2011-2020) release ... more

..
Las Cumbres Observatory gains first light for entire 1-meter node at CTIO
After nearly eight years of design, fabrication and development, Las Cumbres Observatory Global Telescope (LCOGT) installed three 1-meter telescopes at Cerro Tololo Inter-American Observatory (CTIO) ... more

..
Orbital Awarded Contract by USAF For EAGLE Spacecraft Platform
Orbital Sciences, one of the world's leading space technology companies, has announced that the U.S. Air Force Research Laboratory (AFRL) Space Vehicles Directorate has awarded the company a $32 mil ... more