A hyperspectral sensor takes a broadband image that's from 3 to 5 microns - breaks it up into smaller, independently sensed bands.

Ball Gets Hyperspectral Over Boss Contract
Boulder - April 3, 2000 - The U.S. Air Force recently awarded Ball Aerospace & Technologies Corp. a five-year $10.5 million contract to conduct the Brassboard Overhead Spectra Sensor (BOSS) System Specification program.

Ball Aerospace will develop the specifications for a space-based hyperspectral sensor system and the operational infrastructure that supports it. The contract was awarded by the U.S. Air Force Research Laboratory Sensors Directorate, Electro-Optics Branch.

Ball's Systems Engineering Operations group in Dayton, Ohio, will lead the specification development effort. "This is an important win for Ball Aerospace," says Michael Cross, SEO operations manager in Dayton, "because it puts us in a position to help chart the course for the future use of hyperspectral sensors in the Air Force."

Hyperspectral imaging is an emerging technology that provides a tremendous amount of information by simultaneously collecting reflected and emitted energy from hundreds of discrete spectral bands.

"A hyperspectral sensor takes a broadband image that's from 3 to 5 microns or 8 to 12 microns," explains Lon Selmer, a senior engineer at Ball Aerospace. "It breaks it up into smaller, independently sensed bands."

BOSS will collect spectral information primarily in the mid-wave and long-wave infrared portions of the spectrum and use that information to identify targets that current sensors cannot find.

Cross says SEO's role is to translate the Air Force's sensor requirements into engineering design parameters that will enable the sensor to meet those requirements.

The specification effort will entail determining the specifics of the sensor's hyperspectral capabilities, the number of sensors to be built and whether the sensors will fly aboard a single spacecraft or multiple spacecraft.

"We'll also be looking at the existing command and control infrastructure," says Cross. Hyperspectral sensors provide a detailed data that has to be transmitted from space to ground-based operations centers or forward-deployed warfare operations centers.

"We'll be determining the requirements these operations centers need to meet in order to support the amount of data that will be flowing in," added Cross.

"We expect 10 to 20 Ball Aerospace personnel to be employed over the course of the five-year project," says Cross. Personnel will be drawn from SEO offices in Dayton, Ohio, Washington, D.C., Boulder, Colo., and Albuquerque, N.M.

"This is not a standalone project," says Cross. "We will be coordinating and integrating our efforts with the Air Force's ongoing hyperspectral programs to avoid duplicating work. We want to give the Air Force the best possible value for their money."

Sensors Lab at USAF

RADAR TRACKS AT SPACEDAILY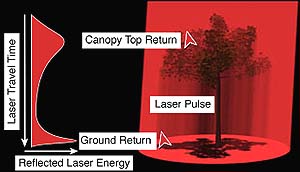 Sky Scanner Sees The Trees For The Forest
Sydney - March 30, 2000 - Airborne systems that can peer deep into forest canopies to assess their biomass, structure and condition are under development by CSIRO.
Thanks for being here;
We need your help. The SpaceDaily news network continues to grow but revenues have never been harder to maintain.

With the rise of Ad Blockers, and Facebook - our traditional revenue sources via quality network advertising continues to decline. And unlike so many other news sites, we don't have a paywall - with those annoying usernames and passwords.

Our news coverage takes time and effort to publish 365 days a year.

If you find our news sites informative and useful then please consider becoming a regular supporter or for now make a one off contribution.


SpaceDaily Contributor
$5 Billed Once

credit card or paypal

SpaceDaily Monthly Supporter
$5 Billed Monthly

paypal only