A Hike Through Isidis Planitia In 2001
by Bruce Moomaw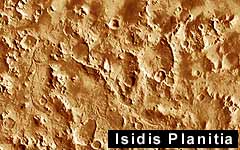 Cameron Park - October 19, 1999 - At the June Mars 2001 landing zone workshop, it became clear that many scientifically interesting sites -- including those at Valles Marineris and White Rock -- were simply too rugged for their science benefit to be worth the landing risk, despite the 2001 Lander's greater accuracy at navigating.

The problem was made worse by the fact that -- because of the onboard problems that delayed MGS' detailed mapping of Mars by a year -- its camera had photographed far fewer of the sites by the time of the Workshop than had originally been hoped.

And, as a further complication, its photos of the Martian surface have shown an unexpected phenomenon that still isn't understood: Over most of Mars' surface, the areas that look rugged in the larger-scale Viking photos tend to look fairly smooth in MGS' meter-scale closeup views, while plains that look smooth in the Viking photos turn out in the closeup views to have very rough surfaces, covered with ridges and grooves only a few meters apart. MGS' photos have also shown that there are herringbone-like sand dunes -- too small for Viking to see -- all over Mars' surface, which can make for a dangerous landing.

So, after the meeting, it took only a few months for the lander's Science Team to reduce the possible landing areas to only four. At a third workshop on Oct. 2-4, the Mars scientific community decided to reject three of those -- including one on the floor of a crater that has a water channel running into it and was probably once a lake, and another site near two cracked light-colored areas (discovered by MGS) that, once again, look like salt flats.

However, the October workshop did add one new candidate landing area. MGS' Thermal Emission Spectrometer (TES), so far, has come up empty-handed in its eagerly anticipated search for carbonate minerals on Mars' surface. They may have been destroyed by the Sun's ultraviolet light, but still exist in large amounts underground.

But it did quickly find something interesting in the Sinus Meridiani area: a very large, sharp-bordered patch -- about 350 km wide -- of what is almost certainly the iron mineral hematite, but much coarser-grained than the more reddish hematite that has been sprinkled all across Mars' surface by atmospheric weathering.

This grayish hematite was almost certainly deposited by ancient liquid water -- either on the floor of a very big lake, or from volcanic hot springs (and in fact there are some surface features there that look like volcanic fumaroles). Recent measurements by the TES have shown this area (0-3 degrees South and 2-7 deg West) to be even more interesting than had been thought, and so it was added to the final landing site list.

Final Candidate
But the other remaining candidate, according to landing site selection co-chairman Dr. Matthew Golombek, was "preferred by all 132 scientists at the October workshop".

It is the highlands just south of the rim of Isidis Planitia -- a circular, low-altitude plain 1000 km in diameter, centered 15 degrees north of the equator (far from the landing sites of any earlier missions).

Like many of the Moon's lava "seas", it is the ancient scar of a huge meteor impact during Mars' earliest days. It is bounded on the west by Syrtis Major -- the great triangular plain of dark volcanic rock that is one of Mars' most conspicuous features -- and on the south by Mars' ancient southern highlands, which were pushed up by the impact to form a curving range called the Libia Montes.

During Mars' early days, Isidis clearly served as a major drainage area for the flanking highlands. There are numerous "valley networks", carved by running water, leading into it, and also what look like numerous ancient lakebeds scattered around its edge.

There are even some signs that springs may have erupted from the floor of the Isidis basin itself. All this makes the Isidis Rim one of the most promising locations on Mars for finding ancient water-deposited sedimentary rocks of the sort that may contain microfossils.

Dr. Jack Farmer -- probably the leading expert in fiding promising locations for Martian fossils -- ranks this area extremely high.

As an added bonus, the towering rim mountains hold promise that the Lander may be able to photograph, on their sides, layers of some of Mars' earliest crustal rocks.

And both the Viking photos and the more detailed MGS photos show many promisingly smooth landing areas. So the planetologists have (almost) reached their decision.

This region is still quite large -- a band running from 270 to 280 degrees West and from 3 deg North to 1 deg South -- and the task remains of pinning down a final landing point within it.

But two promising target points have already been found, and the team has every confidence that they will meet their goal of picking the final Mars Surveyor 2001 landing point -- either in the Isidis Rim or in the dark-horse Hematite Region -- by late January.





Thanks for being here;
We need your help. The SpaceDaily news network continues to grow but revenues have never been harder to maintain.

With the rise of Ad Blockers, and Facebook - our traditional revenue sources via quality network advertising continues to decline. And unlike so many other news sites, we don't have a paywall - with those annoying usernames and passwords.

Our news coverage takes time and effort to publish 365 days a year.

If you find our news sites informative and useful then please consider becoming a regular supporter or for now make a one off contribution.


SpaceDaily Contributor
$5 Billed Once

credit card or paypal

SpaceDaily Monthly Supporter
$5 Billed Monthly

paypal only