OUR EUROPAN NEIGHBOURS - PART ONE - PART TWO - PART THREE - PART FOUR - PART FIVE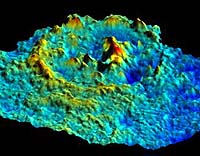 This computer-generated perspective view of the Pwyll impact crater on Jupiter's moon Europa was created using images taken by NASA's Galileo spacecraft camera when the spacecraft flew past that moon on Feb. 20 and Dec. 16, 1997 during its 6th and 12th orbits of Jupiter. Images of the crater taken from different angles on the different orbits have been combined to generate a model of the topography of Pwyll and its surroundings. This simulated view is from the southwest at a 45 degree angle, with the vertical exaggerated four times the natural size. The colors represent different elevation levels with blue being the lowest and red the highest. Pwyll, about 26 kilometers (16 miles) across, is unusual among craters in the solar system, because its floor is at about the same elevation as the surrounding terrain. Moreover, its central peak, standing approximately 600 meters (almost 2,000 feet) above the floor, is much higher than its rim. This may indicate that the crater was modified shortly after its formation by the flow of underlying warm ice. < P>The Jet Propulsion Laboratory, Pasadena, CA manages the Galileo mission for NASA's Office of Space Science, Washington, DC. JPL is an operating division of California Institute of Technology (Caltech).

The Challenge of Exploring a World Without Killing It
by Bruce Moomaw
Cameron Park - April 11, 2000 - How should we go about exploring Europa, though? The next stage -- the Europa Orbiter -- is currently scheduled to arrive in orbit around that world in 2008, and then conclusively settle the question of what lies beneath its ice layer with a variety of instruments.

One would be a long-wavelength radar sounder whose signal can pierce as much as 15 km of solid-ice but bounces off any underlying layer of liquid water.

Even if Europa's ice layer proves too thick for this radar to penetrate, it would probably locate isolated liquid pockets of the sort Pappalardo predicts, and provide cross-section views of Europa's solid geological features that could resolve the puzzle of their origin.

The Orbiter will also carry a laser altimeter that will almost certainly settle the question of whether Europa has a subsurface ocean, by measuring the extent to which the moon's ice crust bulges up and down in response to the changing tidal tug of Jupiter during each orbit; this bulge, as I said, will be about 30 meters if there is a liquid layer sloshing around underneath, but only about one meter if there is solid ice all the way down to bedrock.

But while the Orbitor will also carry cameras, its weight limitations may not enable an IR spectrometer or any other instrument to be carried that would enable an analysis of the various chemicals mixed in with Europa's ice.

Nonetheless it is now obvious that in order to understand the chances that Europa has life we will need to carry out a detailed analysis of that ice as soon as possible.

Even if Europa has been totally frozen and dead for a long time, if it possessed life during its friendly early days the frozen remains of that life may be common in its ice once we get down below the very thin surface layer where such organics are broken down by Jupiter's radiation.

Even if evidence of life is not found we need to learn, by analyzing the chemicals in the ice, how close it may have come to being a habitable world.

And if either Greenberg or Pappalardo are right, and we choose a landing site that has liquid water near the surface today, we might just hit the jackpot early and find living Europan microbes.

For these reasons, leading astrobiologist Jack Farmer told me, he strongly favors making every effort to add a small surface lander to the Europa Orbiter if it is at all possible, to look for organics and other compounds in Europa's near-surface ices.

The need is accentuated by the fact that NASA -- for several reasons -- is seriously considering delaying even the Europa Orbiter for one or two years. Given the long travel time for any Jupiter probe, Farmer laments, "I'll be in my rocking chair before we land anything on Europa."

That same probable delay in the Orbiter, however, just might provide an opportunity for NASA to redesign the mission, or perhaps even add a second spacecraft to carry out a landing using the Orbitor for communications support.

Chris Chyba is heading a NASA advisory group that is currently working on the design of future Europa missions, and with any luck their report will be out this year.

But there is one more problem -- the danger of contaminating Europa with Earth germs. One might think that Jupiter's deadly radiation belts would thoroughly sterilize any Europa spacecraft.

But a National Research Council study last year concluded that such a craft's interior electronics compartments -- which must be shielded from much of that radiation -- could still carry surviving Earth germs to Europa, and that even a spacecraft that crashes on the surface at thousands of kilometers per hour just might bury some of them deeply enough in the surface ice for them to survive in frozen form for thousands of years, long enough for them to possibly be carried down into Europa's underlying water layer.

Indeed, the group concluded that it it is far easier to contaminate the entire world of Europa than it is for Mars, simply because germs released into one part of its ocean will quickly be spread all over the moon.

NASA planetary protection officer John Rummel announced at the Convention that a report by another NSC group on how to protect Europa from Earthly contamination will be released in a few weeks.

NASA is reluctant to heat-sterilize the Europa Orbiter, which might add as much as 10% to its cost -- but (as that study of peroxide-resistant bacteria pointed out) nothing short of that may suffice.

Astrobiology at Ames

OUR EUROPAN NEIGHBOURS - PART ONE - PART TWO - PART THREE - PART FOUR - PART FIVE

SPACE SCIENCE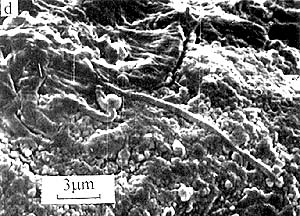 Life on Mars: Will It Survive First Contact
by Bruce Moomaw
Cameron Park - October 7, 1999 - A new era is about to begin in space exploration: an era in which samples of material from worlds more distant than the Moon are returned to Earth by unmanned spacecraft.
In 2004, a spacecraft that has been hovering 1.6 million kilometers from Earth for three years will land in Utah with a sample of the solar wind.

In January 2006, two more spacecraft will return with tiny samples of material from a comet and an asteroid - and a few years later, another may return small samples of material from both the moons of Mars.

And in 2008, the biggest one: the U.S. (in partnership with France) plans to return one kilogram of rock and soil from the surface of Mars, in order to carry out incredibly detailed analyses in the hope that it may contain evidence that the planet once possessed life.

The current plan is to return similar samples from different parts of Mars at four-year intervals, perhaps including some drilled up from dozens, or even hundreds, of meters below the surface - which, some scientists think might even include "extant" (still living) Martian microbes that have survived in Mars' deeply buried liquid water table.
Thanks for being here;
We need your help. The SpaceDaily news network continues to grow but revenues have never been harder to maintain.

With the rise of Ad Blockers, and Facebook - our traditional revenue sources via quality network advertising continues to decline. And unlike so many other news sites, we don't have a paywall - with those annoying usernames and passwords.

Our news coverage takes time and effort to publish 365 days a year.

If you find our news sites informative and useful then please consider becoming a regular supporter or for now make a one off contribution.


SpaceDaily Contributor
$5 Billed Once

credit card or paypal

SpaceDaily Monthly Supporter
$5 Billed Monthly

paypal only