OUR EUROPAN NEIGHBOURS - PART ONE - PART TWO - PART THREE - PART FOUR - PART FIVE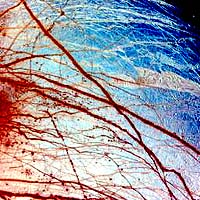 False color has been used here to enhance the visibility of certain features in this composite of three images of the Minos Linea region on Jupiter's moon Europa taken on 28 June 1996 Universal Time by the solid state imaging camera on NASA's Galileo spacecraft. Triple bands, lineae and mottled terrains appear in brown and reddish hues, indicating the presence of contaminants in the ice. The icy plains, shown here in bluish hues, subdivide into units with different albedos at infrared wavelengths probably because of differences in the grain size of the ice. The composite was produced using images with effective wavelengths at 989, 757, and 559 nanometers. The spatial resolution in the individual images ranges from 1.6 to 3.3 kilometers (1 to 2 miles) per pixel. The area covered, centered at 45N, 221 W, is about 1,260 km (about 780 miles) across.

The Life Of Brine
by Bruce Moomaw
Cameron Park - April 11, 2000 - Robert Pappalardo and his colleagues strongly disagree. As he explained in his talk, they hold that Europa's surface ice layer is actually much thicker -- as much as 15-30 km -- with the brittle super-cold surface layer of ice separated from any underlying liquid ocean by a thick layer of warm ice that slowly flows and convects.

They think that this warm ice is what oozes up to fill the tidally produced cracks; and they also think that the chaotic regions are not areas where Europa's ice completely melted through, but rather areas where "diapirs" -- columns of relatively warm, buoyant ice heated by local tidal stresses -- have slowly plowed upwards through the surrounding ice to bulge out and break up the top brittle-ice crust.

They even think that the apparent "non-synchronous" rotation of Europa's outer ice crust may be due to the fact that it is sliding across the underlying rock, not on a layer of water, but on a layer of such very slowly flowing "warm" ice -- after all, it need move at a rate of only a couple of meters per year. There has been a long and abstruse battle going on for several years now between the two competing groups of geologists -- based on subtle but ambiguous evidence in the Galileo pictures -- and it may not be settled until NASA's Europa Orbiter reaches the moon late in this decade with instruments designed to probe into the ice layer.

But even if Pappalardo's gloomier theory is correct, he points out that it not only doesn't rule out Europan life in a subsurface ocean (which he thinks may or may not exist) -- it also doesn't rule out near-surface Europan life!

He points out that the blocks of solid crustal ice in the chaotic regions clearly sank into some kind of soft material -- either liquid or slush -- and he thinks that there are local areas of Europa's ice (as in pack ice on Earth) where there are high concentrations of salts.

When the relatively warm ice of a diapir reaches these patches -- which, being salty, have much lower melting points than regular water -- they completely melt into pockets of liquid brine, which can erupt to the surface, or drain away and cause the solid surface above to collapse into them, or exist under the surface for a very long time before refreezing.

And such rising ice diapirs could slowly carry frozen nutrients -- and frozen, suspended-animation microbes -- from an underlying Europan ocean up to the surface brine pockets, where the microbes could come back to life and live for substantial periods - especially if useful radiation-produced surface chemicals were mixed with the liquid brine.

Indeed, since Europa in its warmer ancient days certainly did have a large subsurface liquid ocean in which life could have evolved, it's possible that it could still have life even if its ocean is now frozen completely solid -- such microbes could have evolved to spend thousands or even millions of years in frozen suspended animation within the ice, coming to full life and reproducing only on those rare occasions when they find themselves within a liquid-brine pocket.

One additional piece of hopeful news on this possibility was reported by Jody Deming, who noted that recent studies have shown that even very cold Arctic sea ice -- as cold as -15 deg C -- has turned out to be filled with tiny interconnected pores of liquid brine containing not only thriving bacteria but even photosynthetic diatoms.

In short, we may not need to find Europan life by developing a "cryobot" probe that would spend years melting its way down through Europa's ice layer to the underlying ocean.

Near-surface probes that melt only a short distance into the ice while looking for evidence of the frozen remains of life or dormant microbes, may be enough. In fact as we study Europa further we may find more life in the upper ice layers than in the underlying ocean itself.

The conference provided even more reason to be hopeful. There is some evidence that Europa's ice -- and any underlying liquid-water ocean -- may contain large amounts of sulfuric acid, perhaps more concentrated than that in a car battery.

But several posters at the Conference touched on the strange Tinto River in Spain which is also highly acidic (from natural causes), and rich in one-celled life of all sorts.

Another speaker described the Lechuguilla Cave in New Mexico, whose walls are covered with growths of sticky bacteria which thrive in, and in fact manufacture, even stronger sulfuric acid of pH 0.0 -- strong enough to eat holes in the researchers' clothes (to say nothing of the researchers).

Another speaker described bacteria that blithely resist attempts to destroy them with supposedly "antiseptic" hydrogen peroxide, one radiation-produced chemical that is known to exist in significant traces in Europa's surface ice.





Thanks for being here;
We need your help. The SpaceDaily news network continues to grow but revenues have never been harder to maintain.

With the rise of Ad Blockers, and Facebook - our traditional revenue sources via quality network advertising continues to decline. And unlike so many other news sites, we don't have a paywall - with those annoying usernames and passwords.

Our news coverage takes time and effort to publish 365 days a year.

If you find our news sites informative and useful then please consider becoming a regular supporter or for now make a one off contribution.


SpaceDaily Contributor
$5 Billed Once

credit card or paypal

SpaceDaily Monthly Supporter
$5 Billed Monthly

paypal only