OUR EUROPAN NEIGHBOURS - PART ONE - PART TWO - PART THREE - PART FOUR - PART FIVE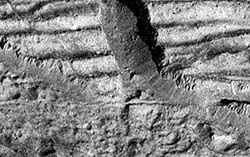 This image, taken by the camera onboard NASA's Galileo spacecraft, is a very high resolution view of the Conamara Chaos region on Jupiter's moon Europa. It shows an area where icy plates have been broken apart and moved around laterally. The top of this image is dominated by corrugated plateaus ending in icy cliffs over a hundred meters (a few hundred feet) high. Debris piled at the base of the cliffs can be resolved down to blocks the size of a house. A fracture that runs horizontally across and just below the center of the Europa image is about the width of a freeway.

A Melting Ice World
by Bruce Moomaw
Cameron Park - April 11, 2000 - Finally, there are Europa's huge areas of "chaotic terrain" -- vast areas where the surface ice layer seems to have been shattered into small blocks that then rotated and tilted in a sea of soft liquid or slush which then refroze and locked them in their new positions.

Greenberg attributes these to "melt-through" events, in which either localized tidal heating in the ice layer itself or a volcanic heat source in the underlying rock completely (though briefly) melted through the ice layer.

This has big implications for Europan biology. Greenberg holds that the raised ridges on Europa are formed when cracks running all the way through the thin ice shell are occasionally pulled open by tidal stress, allowing water from the ocean underneath to gush upwards to the top.

There it boils into the vacuum of space -- but this also quickly lowers its temperature so that it freezes to form a plug of semi-solid ice filling the upper few meters of the crack; and when the tides squeeze the crack shut later, the ice plug is squeezed out to form a raised ridge. If the crack pulls open again later, the new ridge can be split in half and another ridge can form within it.

The result of this is that liquid water (and a small amount of icy slush from the top cap) are pumped up and down in the crack every few days, for periods of tens of thousands of years -- until the creeping rotation of Europa's surface causes the focus of tidal stress to move on and the crack finally freezes solid again.

During that time, this circulation of liquid water can pull salts and other chemicals dissolved in the subsurface ocean up to Europa's surface and which may account for the dark material that colors the cracks. This may also include organic compounds formed by any volcanic vents that may exist on the rocky floor of Europa's ocean .

Perhaps more importantly, it also pumps downward various biologically useful chemicals that (as Dr. Chris Chyba has recently proposed) are formed in the upper fraction of a meter of Europa's ice by Jupiter's intense radiation belts.

These would include some organics such as formaldehyde, and organic compounds dumped on Europa's surface by impacting comets, along with radiation-formed oxidant chemicals such as sulfur, hydrogen peroxide, and free oxygen itself, all of which would help provide Europan microbes with sources both of food and of energy.

Indeed, Greenberg suggests that the faint sunlight punching through the ice in the top meter or so of the crack -- where microbes would still be safe from Jupiter's surface radiation --might be enough for some microbes to carry out photosynthesis - which some Earth microbes do with an amazingly small trickle of sunlight.

Such microbes would have tens of thousands of years to live and evolve comfortably in such cracks; but once the cracks finally froze again, they would either die or live in suspended animation. However, the population of similar germs seeping all the way down into Europa's main ocean would supply each new crack with a new supply of microbes.

Meanwhile, the rare but huge "melt-through " events that formed Europa's chaotic-terrain areas would release even greater amounts of biologically useful surface chemicals into the ocean.

Thus Europan life that first evolved during the moon's ancient warmer days could live on even if Europa's ocean floor has no hydrothermal volcanic vents producing chemicals to nourish microbes.

A cheerful picture; but is it the right one?





Thanks for being here;
We need your help. The SpaceDaily news network continues to grow but revenues have never been harder to maintain.

With the rise of Ad Blockers, and Facebook - our traditional revenue sources via quality network advertising continues to decline. And unlike so many other news sites, we don't have a paywall - with those annoying usernames and passwords.

Our news coverage takes time and effort to publish 365 days a year.

If you find our news sites informative and useful then please consider becoming a regular supporter or for now make a one off contribution.


SpaceDaily Contributor
$5 Billed Once

credit card or paypal

SpaceDaily Monthly Supporter
$5 Billed Monthly

paypal only