The US space shuttle Discovery undocked from the International Space Station Monday after an eight-day visit, gearing up to ferry back to Earth the three members of the station's second crew.

Officials at NASA's Johnson Space Center in Houston, Texas said the shuttle undocked without incident Monday at 1452 GMT, leaving behind the station's new Expedition Three crew members -- US commander Frank Culbertson and Russians Vladimir Dezhurov and Mikhail Tyurin -- who will remain at the station for four months.

The members of the previous crew, Russian commander Yury Usachev and US astronauts James Voss and Susan Helms, were on the station for five-and-a-half months.

The trio awoke early Monday to the tune of "Brand New Day," a song by Grammy Award-winning singer-songwriter Sting, piped in through Discovery's loudspeakers at the request of Helms's friends and family members.

Discovery is expected to land at Florida's Kennedy Space Center on Wednesday at 1646 GMT.

In addition to bringing home the Expedition Two crew, the shuttle will return to Earth with the Italian-built Leonardo logistics module -- which was used to carry more than three tonnes of equipment to the station and will bring back a slightly lighter load of two tonnes of materials and trash from the station, as well as the crew's personal effects.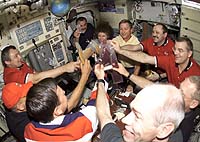 Desktop Available - 800 x 600
Beverages are held high in a toast onboard the Zvezda Service Module of the International Space Station (ISS) as the astronauts and cosmonauts of STS-105 and Expedition Two and Expedition Three gather for one of their first joint meals. Nearest the digital camera's lens at lower right corner is astronaut Daniel T. Barry, STS-105 mission specialist. Others, clockwise around the table, are astronauts Scott J. Horowitz, STS-105 commander; and Frederick W. Sturckow, STS-105 pilot; cosmonauts Vladimir N. Dezhurov and Mikhail Tyurin, both Expedition Three flight engineers, Susan J. Helms, Expedition Two flight engineer, Frank L. Culbertson, Jr., Expedition Three commander; cosmonaut Yury V. Usachev, Expedition Two commander, and astronaut James S. Voss, Expedition Two flight engineer. Usachev, Dezhurov and Tyurin represent Rosaviakosmos. The image was recorded with a digital still camera. STS105-E-5200 (NASA Image 15 August 2001)

This marks the station's second crew change since its first US-Russian crew traveled there in a Soyuz spacecraft in November.

During their extended stay, the station's new residents will take advantage of a lull in construction on the station to focus on the 40-odd planned US and Russian experiments, until they leave in December.

Research will be conducted to examine the effect of space travel on muscular density, kidney function, bone density and cardiac and pulmonary activity, in order to better understand how certain illnesses affect the organs in Earth-bound patients.

Russia, meanwhile, plans to launch its Progress logistics module for the fifth time on Tuesday at 0924 GMT. Docking with the International Space Station is expected on Thursday.