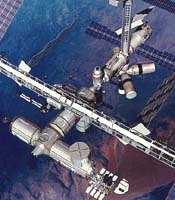 Definitizing ISS Costs $26M
Houston - April 3, 2000 - NASA and the Boeing Space and Communications Group, Houston,TX, have signed a modification to the International Space Station contract (NAS15-10000) valued at $26.3 million definitizing planned changes to the assembly sequence baseline.

The changes included moving launch dates, deleting and adding U.S. flights, and revising the Multi-Increment Manifest (MIM). These factors required rework to the Design Analysis Cycle, Verification Analysis Cycle, mass properties and other analysis-related activities.

Work under this Cost-Plus-Award-Fee contract will be performed by Boeing in Houston as well as at Boeing Information, Space and Defense Systems locations in Huntington Beach, CA; Canoga Park, CA; and Huntsville, AL.

Meanwhile, the next space shuttle visit to ISS has been set to begin at about 4:15 p.m. Eastern time on April 24 to perform life-extension maintenance tasks on the Zarya module, and to deliver supplies to the inside and outside of the station for use by future crews.

A launch on April 24 will see Atlantis ­ fresh off a year-and-a-half of refurbishment and maintenance ­ dock two days later to an orbiting space station for the first time since it arrived at the Russian Mir space station on STS-86 in September 1997.

The orbiter and its external fuel tank/solid rocket booster stack was moved to the launch pad last Saturday and the Spacehab double module was installed into the payload bay earlier this week.

A countdown test that includes the seven astronauts will be conducted next Thursday and Friday at the Kennedy Space Center to mirror the events that will take place on launch day.

Atlantis' STS-101 mission not only provides an early look by three of its crew members at their future home, but also sets the stage for the arrival of the Zvezda service module set to launch on a Russian Proton rocket in mid July from the Baikonur Cosmodrome in Kazakhstan.

Susan Helms, Jim Voss and cosmonaut Yuri Usachev will oversee maintenance tasks to restore the Zarya module's electrical power system to full capacity.

The three crew members were added to this mission for their unique abilities to step in on short notice to accomplish tasks for which they have already been training as the second crew to live alone next year on the ISS.

Voss will join fellow crew member Jeff Williams in a space walk to replace a malfunctioning antenna on the Unity module and deliver additional components of a Russian crane to the outside of the station. The two astronauts also will check the current location of a small U.S. crane to ensure it is seated properly in its housing.

On orbit, the two components making up the International Space Station continue to operate in good health with electrical power management serving as the primary focus of flight controller attention.

Zarya's automatic docking system that will be used to rendezvous and dock with Zvezda has been verified to be in good working condition following several tests over the course of the last few months.

Kurs, as it's called, has two redundant systems and plans are being finalized as to which will serve as primary for the rendezvous and docking phase.

Specific procedures are being developed as to the management of the station's power and communications systems during the final stages of the docking activities.

Earlier today in the California desert, an experimental spacecraft that is being considered for use as an emergency crew return vehicle from the ISS was tested for the fourth time.

The X-38 was dropped from the wing of NASA's B-52 and touched down under the shadow of a huge parafoil. The next test of the craft at NASA's Dryden Flight Research Center is scheduled this summer.

The ISS continues to operate with no major systems failures as it circles the Earth every 92 minutes in an orbit of 232 by 217 miles. The station has completed more than 7,760 orbits since Zarya was launched in November 1998.

NASA's ISS Portal

SPACE TRAVEL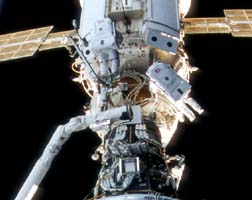 US-Russian Space Ties Immune To Presidential Election
by Guy Clavel
Washington - March 23, 2000 - US-Russian cooperation in space is robust enough to survive any political uncertainty stemming from Russian presidential elections on March 26, according to experts.
Thanks for being here;
We need your help. The SpaceDaily news network continues to grow but revenues have never been harder to maintain.

With the rise of Ad Blockers, and Facebook - our traditional revenue sources via quality network advertising continues to decline. And unlike so many other news sites, we don't have a paywall - with those annoying usernames and passwords.

Our news coverage takes time and effort to publish 365 days a year.

If you find our news sites informative and useful then please consider becoming a regular supporter or for now make a one off contribution.


SpaceDaily Contributor
$5 Billed Once

credit card or paypal

SpaceDaily Monthly Supporter
$5 Billed Monthly

paypal only